15 Tea Review – Lupicia Holiday Collection
Tea Selection: Lupicia Holiday Collection
Company Name: Lupicia Fresh Tea
Location: Retail: Hayward, California
Founded in 1994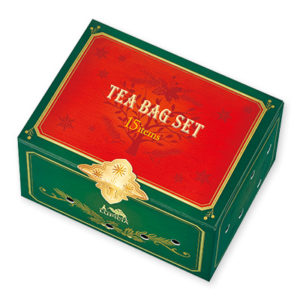 What Lupicia says about themselves (taken from online source):
Our mission is to offer the highest quality teas possible as well as deliver new varieties and flavors to people throughout the world. The taste, character, quality and aroma of any tea is determined by a number of factors:
The country and region the tea plant is grown in
Tea plant species
Plantation soil conditions
Climatic conditions
Production methods
All these factors combine to give each tea their individual and distinctive flavor.
The quality of the tea we select to sell in our stores is maintained by our commitment to providing you with the highest quality tea. We maintain this quality by keeping true to our promise to carefully control our production processes:
By using our own buyers who check the quality of tea at the source before it is imported.
After we receive the imported tea at our production plant it is cleaned and packed on the same day it arrives.
We package our tea in 50g nitrogen filled bags to ensure that the tea is as fresh as possible.
Our skillful and creative tea blenders take special care creating new blends of tea; which is why we have such a great variety of originally blended teas for you to enjoy…
Read more about Lupicia on their website: HERE.
MY REVIEW BEGINS:
I arrived home to find a package on my porch, inside was an amazing product line from Lupicia, one that includes 15 holiday teas ($18.00) and a gift set that includes 4 teas in decorated tins (online special).
If you are interested in purchasing LUPICIA teas please visit HERE and enter the words "Tea Vault" in the order comments section upon checkout to receive a free surprise!
How fun!
Before I get into the review and yes, you should know I tried each and every tea and this review will contain a short review of each tea to give you an idea of the amazing collection that is in these boxes. This is such a great gift for the tea lover or tea novice to try new teas.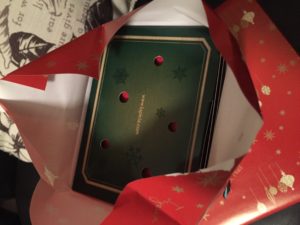 These first four teas are the ones that are included in the four tin tea holiday set, you have to find that tea lover on your list and make sure to get them this gift set, or even the 15 tea bag set, they are going to be thrilled. I know I was when reviewing the teas I was thrilled to find new favorites and experience some tastes I'd not had before.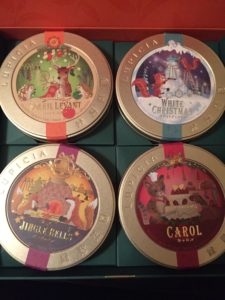 Jingle Bells – This black tea has a sweet citrus scent with a slightly bitter taste. This tea has a wine taste to it but it's not overpowering like drinking a glass of wine. It starts out bitter but has a sweet finish. If you search at the finish you can taste the grapes. With that being said it's a fun tea with an adult like taste but not alcoholic, sharp or overpowering. This tea starts strong but finishes sweet.
Carol – The scent on this tea may make you think of an artificial strawberry flavoring, once brewed however the tea takes on a more vanilla/citrus flavor with a rose finish. The scent and flavor are both subtle with a strong black tea presence.
Soleil Lavant – A Japanese green tea with white grapes and citrus fruits. The scent is a stronger vegetal that is sweet with a slight mint scent. There is almost a wine taste to it with the grapes. It warms the tongue and similar that grape finish is right there for you to enjoy after each sip is finished.
White Christmas – Although labeled a black tea when I inspected the bag after brewing there did appear to be a green tea in the mix. When I first smelled the tea prior to brewing it smelled very much like a rooibos tea, after brewing there was a strong vanilla flavor as well as this darker brew being somewhat bitter and stronger.
Cache Cache – The meaning in french is hide and seek and truly that is what this tea will do to your senses. I blind taste the teas and do not look for ingredients until after and this tea had me seeking. It's a dark brew and slightly bitter with a citrus scent.   On taste you are going to be all over the map with vanilla, citrus and rose. This is a smooth tea and one of my favorites from the group.
Darjeeling – This is a refreshing tea and my favorite out of the group. It's vegetal scent is misleading as the tea is smooth with a mild mushroom or bark taste. It's honestly refreshing and subtle.
8231 – This tea has Taiwanese Pouching and includes both a Japanese White Peach and Pink Rose Petals. Number three on my list of favorites. Beautiful brewed liquor with a mild scent, slightly vegetal but honestly the rose stands out with a bit of a perfume flavor, light beginning with a very slight rose finish, this tea will keep you wanting more.
8031 – Pretty green tea with the scent of grass yet sweet, once brewed this tea is smooth with a milky creamy flavor and an almond finish to it.   This tea will surprise you as first scent is nothing like first and last sip. Smooth and milky tea to finish.
8506 – Tokio – Light scented tea, a green tea with a hint of fruit, sweet fruit that takes the familiar green tea taste and blends into into a fine aroma of fruit and vegetal. This tea has a woody nutty taste that's finish is vegetal, with an ever so slight bitterness that makes you want more. I tried it iced and its fabulous as well.
9202 Piccolo – The scent of this fine rooibos does remind me of cough syrup however the taste is far from that. It's a delightful mix of fruit and rooibos. The berries stand out strong with just a touch of fruit and the rooibos just brings it all to a fine finish. At times you think you have the flavor of bubble gum in your mouth!
9504 Ginger Lemon Myrtle – On first scent this tea has a bit of an antiseptic scent to and stronger on the ginger, however the rooibos and honey bush tea give it such a sweet flavor that the ginger is not overpowering, the lemon myrtle adds just a touch of citrus. That ginger still warms your mouth like it is supposed to do! I'm finding far too many favorites that have surprised me.
5127 Union Jack. – This black tea is stronger them most and that is because it duplicates teas that are drank in Britain. The teas take on a strong brew as well as taste. The taste is mild yet strong a great black tea to bring it all down to one thing black tea flavor. "
5617 Rose' Royal – Very light aroma of strawberry, this black tea brews to a medium liquor. There are times when I just have to peek at the ingredients and this is one of those times. I taste floral and rose but the ingredients are strawberries and an essence of wine. I love these teas with a wine character, so much potential for them in our lives. Slightly bitter.
5510 Christmas Wreath – How can a tea remind you of it's name? This tea does just that, it does not smell of pine but more of mint and cinnamon along with other spices. There is a subtle sweetness to this tea as well, full bodied and smooth. I'd have to say it's another one of my top favorites.
5533 Classic Blueberry – Medium liquor with a very sweet fragrance of blueberry and fruit. The berry scent is very masked by the tea flavor but there is just enough of it that it sneaks out at the finish, I can't say this is a light or smooth tea but it's surprisingly mellow.
Stay strong and be at peace, find your zen!
Like us? Love us? Want a certain tea reviewed?
SEND US YOUR COMMENTS!
P.S. I've included an average brewing instruction chart below to help you brew your teas.
AVERAGE BREWING INSTRUCTIONS:
These are common instructions for brewing teas, however if the company suggests other brewing I will include it in the review section.
Time and Temperature Guide:
Tea      Temperature Minutes
Black      95°C / 205°F 3 – 5
Oolong/White 85°C / 185°F 3 – 4
Green/Yellow 80°C / 176°F 2 – 3
Herbal/Tisanes.         100°C / 212°F 5 – 15
** As always stated by My Tea Vault, we think you should enjoy tea the way you like it, I like mine very strong with no sweetener, these are just guidelines and I suggest you use the guideline then adjust for your own tastes.