Heart-T'ee – Blue Tea – Wild Hibiscus Flower Company
Tea Selection: Heart-T'ee Blue Tea
Company Name: Wild Hibiscus Flower Company
Location: Retail: North American – Richford, VT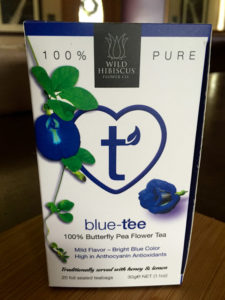 What Wild Hibiscus Flower Comapny says about themselves (taken from online source):
Lee and Jocelyn Etherington are the owner operators of Wild Hibiscus Flower Company and wear many hats across the business to ensure the highest quality products can be produced and delivered to you for your enjoyment and creative flare.
Made possible only with our much loved farmers to produce our premium flowers, our dedicated manufacturing team including Lee's two brothers who manage production, and our ever so fabulous operations teams and international distributors across North America, Thailand, Europe and the UK to bring our products to you in over 50 countries.
Many of our products including the Wild Hibiscus Flowers in Syrup and b'Lure Butterfly Pea Flower Extract are our own innovations and the first products of their kind on the market.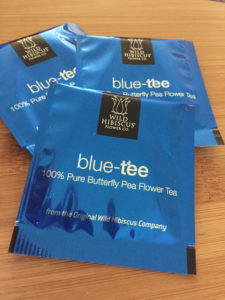 Read more about Wild Hibiscus Flower Company on their website: HERE.
What Wild Hibiscus Flower Company says about this tea:
Heart-Tee Blue Tee is made from 100% pure butterfly pea flowers.  A mild tasting tea with intense blue color.  The flowers are a very high source of anthocyanin antioxidants.
INGREDIENTS:
100% Pure Butterfly Pea Flowers
COSTS: $6.00 / Box of 20 foil wrapped bags
Price may vary according to the amount purchased.
MY REVIEW BEGINS
Here is what I think
This tea is packed full of 100% natural herbal tea packed full of Anthocyan Antioxidants. Anthocyan's are are powerful compounds that may help prevent CVD, Cancer and boost cognitive functions. You can check out more facts on your own but I wanted you to know, this is some cool stuff!
What is really fun is the color of this tea, it's BLUE and I heard a secret that if you add some lemon, it turns pink.. really! J
This tea does not have a lot of flavor; it's very mild which is great for people that are not ready to try a strong herbal tea. You can add some honey or lemon (do it) and it really gives the tea a nice flavor, however I did enjoy the low flavor tea.
The website tells us that by adding honey and lemon you make a traditional welcome drink named nam dok anchan.
What I liked
Loved the blue/pink "magic" trick with the tea. This could be a fun experiment with the kids/family.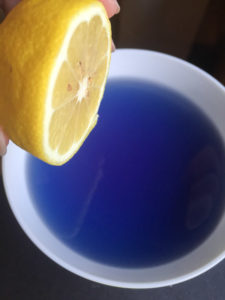 Here is  a movie showing the magical color change.
This herbal tea brews fast, I like that, and sometimes you just do not have time to sit around a let a tea brew.
100% natural I love that as well, no fake, no fluff and no additives.
You can drink it hot or cold.
I can't wait to make ice cubes with it and add it to my water "just for fun".
What I did not like
 I know I said I love the flavor of the tea but if I had to say anything I did not like it would be that some people may not believe or think they are getting something good for them without the flavor.
I can't dig too much deeper, I honestly don't have anything negative to say, it's a great tea.
*_ *_ *_ *_ *_ *_ *_ *_ *_*_ *_ *_ *_ *_ *_ *_ *_
Until next sip pinkies up and face the wind! You got this!
P.S. I've included an average brewing instruction chart belowto help you brew your teas.
AVERAGE BREWING INSTRUCTIONS:
These are common instructions for brewing teas, however if the company suggests other brewing I will include it in the review section.
Time and Temperature Guide:
Tea      Temperature Minutes
Black      95°C / 205°F 3 – 5
Oolong/White 85°C / 185°F 3 – 4
Green/Yellow 80°C / 176°F 2 – 3
Herbal/Tisanes.         100°C / 212°F 5 – 15
** As always stated by My Tea Vault, we think you should enjoy tea the way you like it, I like mine very strong with no sweetener, these are just guidelines and I suggest you use the guideline then adjust for your own tastes.
Like us? Love us? Want a certain tea reviewed?
SEND US YOUR COMMENTS!