Marlee Green Tea Whiskey Review
I really want to get right to into the taste of Marlee's Green Tea Whiskey because it's unique and I want to tell you about it however, I feel the best thing to do is follow the pattern I've established and tell you about the company.
Marlee's is bottled in Bardstown, Kentucky. The owner or Marlee's is Jared Berlin and he fell in love with the green tea/whiskey combination while traveling in China. Jared's desire was to create a premium product for the everyday consumer. Keeping it simple seems to be clear from what I can see surrounding the product ingredients to the first pour.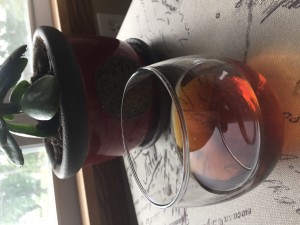 Ingredients are:
Unfermented Green Tea this allows the natural enzymes to burst with antioxidants and natural energy.
American Rye Whiskey an un-aged rye without the heavy barrel flavors, this allows the gunpowder green tea to shine through.
Blue Agave a 100% organic blue agave from Mexico
When you sever your Marlee's Green Tea Whiskey just pour it over ice with a touch of lemon, a sprig of mint or a splash of ginger beer. Simple! From beginning to end.
I poured a shot for a friend and myself, I smelled the glass that had a whisky scent with a somewhat fragrant background. For me it was an unfamiliar smell from a shot of whiskey. I choose a shot because I wanted to taste the whiskey itself and not anything added or diluted.
From there I sipped the whiskey and it definitely had the familiar whiskey taste however, as it rolls off your tongue and down your throat there is a very pleasant aftertaste of "tea". It's really interesting and fun actually. It made my eyebrows raise a bit. You just don't expect it and then…it's there, that interesting taste of tea.
From sip to full consumption the experience is delightfully the same: The strong whiskey feel followed by the nice green tea taste. With that taste of green tea comes the powerfulness of the green tea within carrying antioxidants (polyphenols) into your body as well. It's not only a great drink it benefits you as well.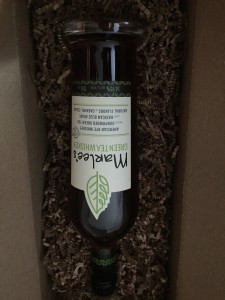 My friend felt the exact same way and was intrigued by the pleasant aftertaste mixed with the whiskey front.
This is not your normal whiskey. I would describe it more as a premium beverage to serve at dinner or evening social. It's more then a shot of whiskey defined it's a taste sensation and it will stand out no matter where you are or what you serve it with.
The alcohol content of Marlee's is 14.95%, has a shelf life of more then five years and costs on average 17.99 a bottle!
I suggest you not wait and get a grip around one of these bottles and try it for yourself. For more information on ordering Marlee's Whiskey Green and for more ways to enjoy Marlee's
click HERE.