Review – Black Raven Tea – Eastern Shore Tea Co.
Tea Selection: Black Raven Tea
Company Name: Eastern Shore Tea Co.
Founded: no information listed
Founder: Stanley J. Constatine, Esq. President
Tea Company Comments taken from their webpage:
Highest quality tea, and beautiful packaging are hallmarks of Eastern Shore Tea. Each variety is unique, from the one of a kind blends, to the original graphics created by renowned artists Howard Burns & Chas Constantine.
Each package of loose tea contains a re-usable muslin tea bag. Our tea bags are individually foil wrapped, and are made from oxygen whitened non-bleached paper. Our tea bags also do not use metal staples, so they are microwave-safe. In response to many requests from our customers, we have eliminated tags and string, to make our tea bags more ECO-Friendly.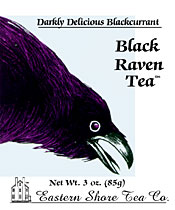 Personally:
"Inspired by Edgar Allan Poe, this luscious blackcurrant tea blend is a Polished Paean of Praise to the mysterious romanticism and darkly poetic imagery of one of America's first and still foremost authors of spellbinding tales. "Black as a raven's wing,"".
Read more about Eastern Shore Tea Co. on their website: Eastern Shore Tea Co.
INGREDIENTS:
Fine Black Tea
Black Currant Flavoring
COSTS: 5.95 / 3 ounces
varies according to your purchase(s).
REVIEW: I love the works of Edward Allan Poe so when I saw this tea I "just had to".
Prior to brew: very dark tea with a lovely fruit smell.
Brewed: deep violet color
Scent: The scent is strong and reminded me of raspberries
Flavor: Fruity
Sentiments: I saw this tea and just had to try it. I love the scent and my only wish would be for a natural flavoring. It is a delightful tea and tastes as good as it smells. I made it into an iced beverage on a hot summer day. It's very refreshing. The color is dark and the scent of black current really fills the cup.
The website has a very good video on tea and the company in general is conscientious of what it chooses to be a tea and what to compliment each tea with.
I just spoke with Stan and asked about the flavorings and I will paste his response here:
"The Blackcurrant flavoring that we use in our Black Raven Tea is an all-natural Blackcurrant flavor with natural red grape added.  Traditional Blackcurrant flavoring has a bitter edge that most American's don't care for (Europeans do like it), so we add a small amount of red grape to smooth the flavor profile out. "
So glad for that Natural flavoring and the wisdom to sweeten it up a bit, I liked this tea and glad it can be something I can order again.
My Tea Vault score values of 1-10 (10 being the best): "8 "
Till next Tea….