A Man, A Mustache and A Happy Tea Winner
I was absolutely thrilled when Josh contacted me about his winning the giveaway we sponsored last month with Teakruthi, Japanese Green Tea, Tea Warehouse, Story of my Tea, Yunomi and yours truly My Tea Vault.
This was a first contest for me and it went off with out one glitch and I was thrilled.  I hope to do more in the future, so stay tuned!
When I saw his image it really made my heart so happy so I had to share it with you!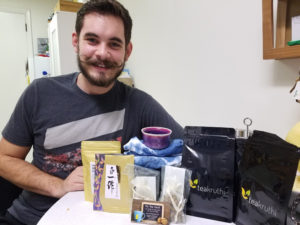 When I saw that smile (and that mustache) it really just made my heart smile.  Thank you so much for sharing your joy with us.
Lisa B.