A Tea Bag That Costs HOW MUCH?
PG Tips Diamond Tea Bag – $15,000 WOW
So what does the Diamond Tea Bag look like?  Click here to find out: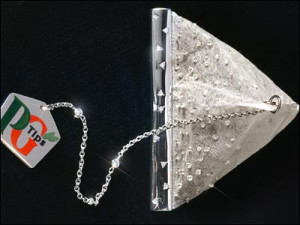 HERE is a little history on the PG Tips Company.
This tea bag was introduced by the famous UK-based company, PG Tips, in 2005. Approximately two grams of the expensive Silver Tips Imperial Tea from Darjeeling is enclosed in each tea bag, designed by Boodles Jewelers. Each bag is studded with 280 diamonds of the finest kind. Priced at $15,000, the PG Tips Diamond Tea Bag was launched as a fund-raising campaign for a children's charitable organization in England.
I wonder how many of these are still around and who holds them?