Achtung Gingerbread Baby | Tranquilo Tea
Tea Selection: Achtung Gingerbread Baby
Company Name: Tranquilo Tea
Location: Edmonton, AB
Founded: no information listed
Founder: no information listed
Tea Company Comments taken from their webpage:
Our mission is to supply our customers with the best teas, while giving a portion of proceeds back to local and global causes we believe in. We only source our teas from companies who have a history of ensuring ethical treatment of all employees on the tea estates and do not use child labor.
Our guarantee to you……..
NO preservatives, NO added sugars, and NO artificial colors!!
Personally:
The one thing I like about Tranquilo's packaging is all the information they give you about the tea, the caffeine levels, Antioxidant level and steeping guide.
Read more about Tranquilo Teas on their website: Tranquilo Teas.
INGREDIENTS:
Black Tea
Ginger
Cinnamon
Cocoa beans
Safflower petals
Chamomile white flowers
Star anise
Natural flavors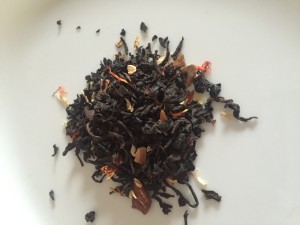 COSTS: 7.99 CAD / 2 ounces – varies according to what you purchase.
REVIEW: What a fun name and mix that I really had some expectations. This tea did not surprise however not what I thought it would be. Again, remember I do not look at ingredients before tasting. I expected to taste all the ingredients listed however I did not taste many of them, from the name I expected a Holiday tea, but did not feel it to be that way.
Prior to brew:
Brewed: Mid Amber color
Scent: Surprising vegetal and sweet scent
Flavor: Slight bitter however sweet flavor
Sentiments: To me, the tea does not match the name, it's a good tea, I actually enjoyed it however from the name I feel it's being branded as a winter or holiday tea and it just did not fit the name.
My Tea Vault score values of 1-10 (10 being the best): "8 "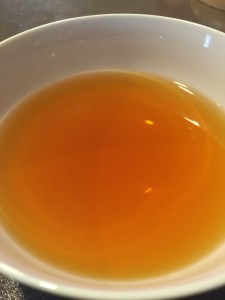 Till next Tea….