Company Name: ALOHA TEA
**Direct link to main tea site is located below the Company Details below tea reviews!**
TEA SELECTION: PROTECT TEA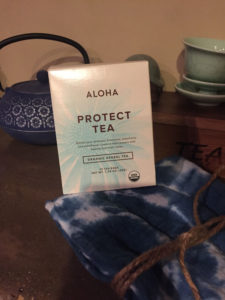 Interesting Highlights:
Organic tea for when cold and flu season comes around or those baggy symptoms start to show up.
Ingredients:
Organic Ginger Root
Organic Elderberry
Organic Elder Flower
Organic Myrtle Leaf
Organic Echinacea Herb
Organic Tulsa Leaf
Review:
Maybe it's because I know this tea is medicinal in nature because those ingredients have a big effect on your immune system. For me, the taste is medicinal in nature but not in taste. If you understand what I mean here. This tea works because I know the ingredients work. The taste is a bit ginger root spicy making it a bit "hot" but gracious. There is no bitterness or aftertaste either and I love that. Plus this tea gets a big thumbs up because it's organic and organic is better for you. I drank this tea iced as well. I'm still on an iced tea thing carrying over from summer. But on those stuffy nose days, a nice hot tea will clear up your sinuses as well as minister to those immune attackers.
I'm impressed with this tea, I found it at a local grocery store and had to try it, and share the details with all of you.
Cost: $5.00/ 15 Tea bags
These teas also come with a subscription service of 4 boxes of 15 teas for $18.00 every month.
Price may vary according to the amount purchased.
~~~~~~~~~~~~~~~~~~~~~~~~~~~~~~~~~~~~~~~~~~~~~~~~~~~~~~~~~~~
~~~~~~~~~~~~~~~~~~~~~~~~~~~~~~~~~~~~~~~~~~~~~~~~~~~~~~~~~~~~
Company highlights, notes and more:
We believe health is the foundation of happiness."
Nutrition doesn't need to be complicated, but all too often it is. We're constantly exposed to conflicting recommendations, and sometimes it's hard to separate the good from the bad.
But there's actually a very simple recipe for eating well: keep it close to the earth. This may be easy to grasp, but because we all lead busy lives, it's not always easy to execute. That's why we founded ALOHA: to make plant-based products derived from whole ingredients convenient and accessible for modern life. Treating our bodies right should always be an available option.
Good health is the foundation of happiness, and proper nutrition is only one piece of the puzzle. In the Hawaiian language Aloha means 'sharing the breath of life', and we aim to share our belief that a healthy lifestyle is all about balance. Making time for movement, meditation, nourishment, new experiences and relationships is what fills us with the breath of life. Let's all share it.
Read more and visit the website: CLICK HERE.
******************************************************************
I hope you all are enjoying and sharing our tea reviews. I love our tea loving community and as tea continues to grow and flourish so will our reviews. I plan on keeping us all informed on what is going on, what is new, what is bad and simply what is.
Please take a moment to sign up for our newsletter and follow us on Facebook, Twitter and Instagram. So much more to share and the newsletter gives us discounts, giveaways and tea company's inspirations. Don't be left out of our community.
Below I have included an instructional brewing chart to help you brew your teas.
Like us? Love us? Want a certain tea reviewed?
SEND US YOUR COMMENTS!
(So serious, write to me and tell me what you are thinking, I honestly want to hear from everyone!)
Don't forget to follow me and make sure you say Hello!
******************************************************************
AVERAGE BREWING INSTRUCTIONS:
These are common instructions for brewing teas, however if the company suggests other brewing I will include it in the review section.
Time and Temperature Guide:
Tea Temperature Minutes
Black 95°C / 205°F 3 – 5
Oolong/White 85°C / 185°F 3 – 4
Green/Yellow 80°C / 176°F 2 – 3
Herbal/Tisanes. 100°C / 212°F 5 – 15
** As always stated by My Tea Vault, we think you should enjoy tea the way you like it, I like mine very strong with no sweetener, these are just guidelines and I suggest you use the guideline then adjust for your own tastes.