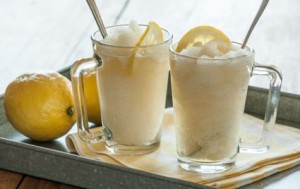 This refreshing blend of lemonade and tea is just lightly sweet, making it perfect for warm-weather cooling and hydration. Try garnishing each drink with a mint sprig, lemon slice or cucumber spear.
1 1/4 cups lemonade
1 1/4 cups unsweetened green or black tea
Method:
Pour lemonade into an ice cube tray and freeze until solid, 2 to 3 hours.
Pour tea into a blender and then add lemonade ice cubes. Pulse to begin to break up ice, then blend, stopping to stir if necessary, until smooth and thick; blend in 1 to 2 tablespoons more tea if needed to make a smooth mixture. Pour into 2 glasses and serve with straws or long spoons.
Alternatively, use the slushie mix as a base for a quick granita: Pour it into a metal baking pan, pop in the freezer and break up chunks every 30 minutes with a fork until the mixture is frozen, 1 to 1 1/2 hours. Then fluff with a fork and transfer to small dessert bowls.
Nutritional Info:
Per Serving:Serving size: 1 1/4 cups, 60 calories (0 from fat), 0g total fat, 0g saturated fat, 0mg cholesterol, 10mg sodium, 16g carbohydrate (0g dietary fiber, 16g sugar), 0g protein
Special thanks to Whole Foods for another amazing tea recipe!