BASIC BISCOTTI (to dip in your tea)
BASIC BISCOTTI (to dip into your tea)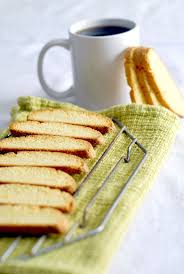 6 tablespoons butter
2/3 cup granulated sugar
2 teaspoons vanilla
2 large eggs
2 cups flour
1 1/2 teaspoon baking powder
1/4 teaspoon salt
1/4 cup dried apricots (optional)
1/2 cup dried cranberries (optional)
2 green tea bags (tea removed from the bags)
Preheat oven to 350 degrees and line a baking sheet with parchment paper. Cream butter and sugar in mixer until fluffy and then add in vanilla and eggs. Scrape bowl and combine remaining dry ingredients (without add ins) in a separate bowl. Whisk until combined and then slowly add to the wet ingredients in the mixer. When dough forms, remove bowl from mixer and add dry ingredients. Stir by hand to incorporate.
Place dough onto parchment paper in a long log shape (roughly 14″ in length) Try to make it as even as possible to encourage even baking (though you'll notice ours got a little lopsided). Bake for 25 minutes and remove from oven.
Adjust oven temperature to 325 degrees. Let sit for 10 minutes on counter and wipe dough with a damp paper towel. Cut on a bias to create the familiar biscotti shape and spread out on cookie sheet once again (you can use the same piece of parchment, the residue won't burn). Bake for an additional 25 minutes, or until golden brown.
Allow to cool on a drying rack and store in an airtight container for up to a week. If they lose their crisp crunch, try leaving them out on the counter, or reheating them in a 200 degree oven for 15-20 minutes.
Enjoy!
Thank you to  THE KITCHEN