Black, Green or Herbal What's A Tea To Do?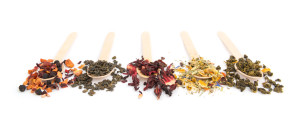 Know Your Teas
Black
The scoop: Black tea is the most common variety and accounts for about 75 percent of global tea consumption. Like many of the teas here, it's made from the leaves of the Camellia sinensis plant, which are typically rolled and fermented, then dried and crushed. Black tea has a slightly bitter flavor and contains the most caffeine—about 40 milligrams per cup. (A cup of coffee has 50 to 100.)
Green
The scoop: Green tea has a more delicate flavor than black. The leaves are dried and heat-treated soon after they're picked, which stops the fermentation process. It contains about 25 milligrams of caffeine per cup.
Oolong
The scoop: Oolong is similar to black tea, but it's fermented for a shorter time, which gives it a richer taste. It contains about 30 milligrams of caffeine per cup.
White
The scoop: These leaves are picked when they're very young, so white tea has a much milder flavor than any other variety, not to mention less caffeine—about 15 milligrams per cup. Loose tea may also contain more antioxidants than tea in bags, because the leaves are less processed.
Flavored
The scoop: In this category, aromatic extras, such as cinnamon, orange peel, and lavender, are paired with black, green, or white tea leaves.
Herbal
The scoop: Technically, herbal teas are not teas at all—they're usually some combination of dried fruits, flowers, and herbs. Herbal varieties contain no caffeine. Avoid herbal weight-loss teas, which may contain dangerous laxatives.