BLOOMING WITH JOY TEAS – Hot Sassy Cinnamon, Joyful, TeaTox and Caramel Mocha
Company Name: BLOOMING WITH JOY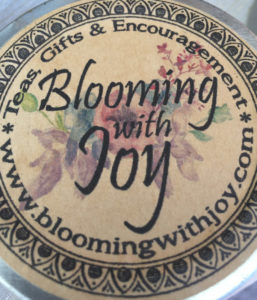 **Direct link to main tea site is located below the Company Details below tea reviews
TEA SELECTION: HOT SASSY CINNAMON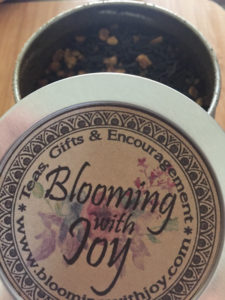 Interesting Highlights:
There top seller and I absolutely see why (even thought I only reviewed a few teas).
Ingredients:
Black Tea, Cinnamon, Orange Peels, Cloves, and Natural Cinnamon Flavor,
Review:
When I review I tea a hardly look at the ingredients because I love for my palette to pick out the different tastes. This tea appeared to be sweetened however when I peaked at the ingredients I was pleasantly surprised at no added sweetener and this one little ingredient "sweet cloves" having a great deal to do with that sweetness. This tea was sweet and spicy, fresh in presence leaving a strong impression. The taste reminded me of a fireball or red hot candy. Enjoyable!
Cost: $6.99 / 2 oz refillable tin
Price may vary according to the amount purchased.
~~~~~~~~~~~~~~~~~~~~~~~~~~~~~~~~~~~~~~~~~~~~~~~~~~~~~~~~~~~~~
TEA SELECTION: JOYFUL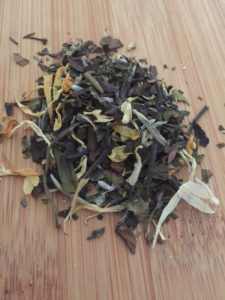 Interesting Highlights:
Loving the mixes in these teas and some interesting combinations
Ingredients:
White Tea, Marigold Flowers, Lavender Flowers, Apricots, and Natural Peach Flavor
Review:
This tea is slightly bitter with a slight citrus taste, I enjoyed the lavender and marigold flower presence as well. It's a lovely tea that would work well with as an afternoon tea or dinner tea.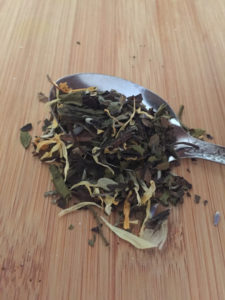 Cost: $6.99 / 1.5 oz refillable tin
may vary according to the amount purchased.
~~~~~~~~~~~~~~~~~~~~~~~~~~~~~~~~~~~~~~~~~~~~~~~~~~~~~~~~~~~~
TEA SELECTION: TEATOX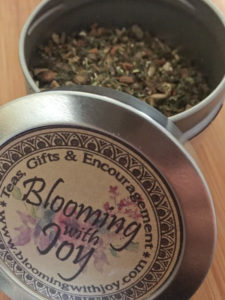 Interesting Highlights:
This tea means business, and I like that because it's a tea that is meant to detox and not just delight our palette.
Ingredients:
Milk Thistle, Burdock, Green Rooibos Tea, Cinnamon Bark, Peppermint Leaves, Dandelion Root and Lemon Balm
Review:
Sometimes a tea is not so much a delightful pleasure but at times a tea is there to do a job like this tea, it's a detox tea and you know it when you drink it. I'm not saying it's not pleasant but you can tell this tea means business and I liked that. It's mild and earthy not spicy or hot. Mixed well and I love the cleansing ingredients chosen for this tea like milk thistle, dandelion root and burdock. This was the first time I reviewed Green Rooibos and I love when something new shows up in a tea! What is green rooibos? It's a rooibos before it's been roasted and fermented, it's "Green" as the name implies.
Cost: $6.99 / 2 oz refillable tin
Price may vary according to the amount purchased.
~~~~~~~~~~~~~~~~~~~~~~~~~~~~~~~~~~~~~~~~~~~~~~~~~~~~~~~~~~~~
TEA SELECTION: CARAMEL MOCHA
Interesting Highlights:
Sweet and nutty however I'd add sweetener to this one for sure to get it to a full potential of that caramel.
Ingredients:
Black Tea, Cocoa Nibs, Natural Caramel Flavor, Natural Vanilla Flavor and Natural Chocolate Flavor
Review:
This tea is more bitter then sweet and like I said above I'd add some sweetener, it's a strong tea with a roasted flavor.
Cost: $6.99 / 2 oz refillable tin
Price may vary according to the amount purchased.
~~~~~~~~~~~~~~~~~~~~~~~~~~~~~~~~~~~~~~~~~~~~~~~~~~~~~~~~~~~~~
SPECIAL NOTE:
Enjoyed meeting Michelle at a local farm market and was thrilled to be able to review her teas and share them with you. Michelle is local and I love finding local tea people to connect with. This won't be the last time you hear me talk about her, she's got a great product and I want to let you all know more and more about it and her quest to share her teas (and tea products) with you.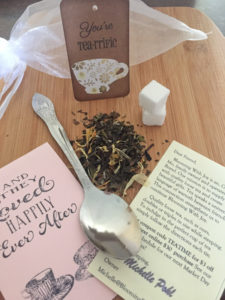 ~~~~~~~~~~~~~~~~~~~~~~~~~~~~~~~~~~~~~~~~~~~~~~~~~~~~~~~~~~~~
Company highlights, notes and more:
About
With Joy is a family owned and operated Tea Shop in O'Fallon MO. Our mission is to supply you with quality tea and beautiful gifts.  Only the finest ingredients are used in our artisan tea. We want our tea to bring you joy!
Being a small business you can be assured your purchase is handled with care. You can find us each week at various market shows and in these retailers. Otherwise, simply order online , we offer shipping and free local pick up!
Friendship blooms over tea.
During difficulties a "cuppa" tea shared with a friend gives us the strength to continue Blooming With Joy. Blooming With Joy Tea Co. is where friendship blooms over tea. So grab a cuppa tea and be encouraged to overcome the chaos and find joy.
About Michelle Pohl, Owner
I am a reformed coffee addict turned devoted tea drinker.
I have experienced many difficulties. Yet through it all I found strength in friendship, along with God's peace, to continue Blooming With Joy. My tea addiction began during a very stressful time as a way to calm down. Inadvertently, I became so passionate about tea, its beauty and benefits, that our family launched Blooming With Joy Tea Co. I personally, craft each of our blends and products to ensure you receive our very best.
Read more and visit the website: CLICK HERE.
******************************************************************
I hope you all are enjoying and sharing our tea reviews. I love our tea loving community and as tea continues to grow and flourish so will our reviews. I plan on keeping us all informed on what is going on, what is new, what is bad and simply what is.
Please take a moment to sign up for our newsletter and follow us on Facebook, Twitter and Instagram. So much more to share and the newsletter gives us discounts, giveaways and tea company's inspirations. Don't be left out of our community.
Below I have included an instructional brewing chart to help you brew your teas.
Like us? Love us? Want a certain tea reviewed?
SEND US YOUR COMMENTS!
(So serious, write to me and tell me what you are thinking, I honestly want to hear from everyone!)
Don't forget to follow me and make sure you say Hello!
******************************************************************
AVERAGE BREWING INSTRUCTIONS:
These are common instructions for brewing teas, however if the company suggests other brewing I will include it in the review section.
Time and Temperature Guide:
Tea      Temperature Minutes
Black      95°C / 205°F 3 – 5
Oolong/White 85°C / 185°F 3 – 4
Green/Yellow 80°C / 176°F 2 – 3
Herbal/Tisanes.         100°C / 212°F 5 – 15
** As always stated by My Tea Vault, we think you should enjoy tea the way you like it, I like mine very strong with no sweetener, these are just guidelines and I suggest you use the guideline then adjust for your own tastes.