BOH TEA HAS A LITTLE GINGER TEA FOR US TO EXPERIENCE
Company Name: BOH
Company highlights, notes and more:
BOH is a brand that reaches out and brings together Malaysians from all walks of life. For more than 80 years and over a cup of BOH tea, Malaysians have been bonding and sharing extra special moments together and BOH is privileged to have been part of the Malaysian way of life through the years..
Read more and visit the website: CLICK RIGHT HERE
~~~~~~~~~~~~~~~~~~~~~~~~~~~~~~~~~~~~~~~~~~~~~~~~~~~~~~~~~~~~~
Companies Use of Pesticides and Toxins:
This company states that this tea is 
" Cultivation Method: Orthodox, controlled pesticide-free"
That makes this girl smile!
~~~~~~~~~~~~~~~~~~~~~~~~~~~~~~~~~~~~~~~~~~~~~~~~~~~~~~~~~~~~~
TEA SELECTIONS:
Cost: $13.50/ Gift tin w/20 sachets
PROMO CODE: MYTVAULT
Price may vary according to the amount purchased.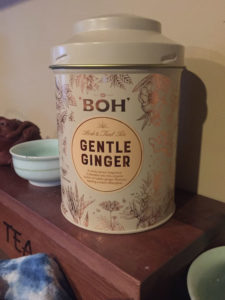 Interesting Highlights:
I love the brewed smell, it's somewhat sweet and I know it has no sweeteners but the licorice and spearmint give it that amazing sweet aroma.
Ingredients:
Organic Ginger
Organic Lemongrass
Organic Licorice Root
Organic Lemon Peel
Organic Spearmint
Review:
The nice thing about these tea bags are you can see what you are getting and what you are getting is actual tea, not dust. You can see the lemongrass, the peel and the leaves.
I also love that this tea is organic, that is so important now a days to those of us searching for a way to lessen the toxic atmosphere around us.
What a fun and serious tea. From the first sip you get a mild tea that slowly turns sweet to warming in your mouth. It's exciting and I had to keep experiencing more sips just to experience the reaction the ingredients were having in my mouth.
Refreshing! Not medicinal and not heavy on the ginger, however you know it's there by the way your mouth warms right up.
If you wanted to start to enjoy ginger and did not know where to start I'd suggest right here.
The pyramids are biodegradable to help the environment as well.
Afertaste: none
Biterness: none
Notes:
Sweet
Ginger
Mint
Licorice
******************************************************************
I hope you all are enjoying and sharing our tea reviews. I love our tea loving community and as tea continues to grow and flourish so will our reviews. I plan on keeping us all informed on what is going on, what is new, what is bad and simply what is.
Please take a moment to sign up for our newsletter and follow us on Facebook, Twitter and Instagram. So much more to share and the newsletter gives us discounts, giveaways and tea company's inspirations. Don't be left out of our community.
Below I have included an instructional brewing chart to help you brew your teas.
Like us? Love us? Want a certain tea reviewed?
SEND US YOUR COMMENTS!
(So serious, write to me and tell me what you are thinking, I honestly want to hear from everyone!)
Don't forget to follow me and make sure you say Hello!
******************************************************************
AVERAGE BREWING INSTRUCTIONS:
These are common instructions for brewing teas, however if the company suggests other brewing I will include it in the review section.
Time and Temperature Guide:
Tea Temperature Minutes
Black 95°C / 205°F 3 – 5
Oolong/White 85°C / 185°F 3 – 4
Green/Yellow 80°C / 176°F 2 – 3
Herbal/Tisanes. 100°C / 212°F 5 – 15
** As always stated by My Tea Vault, we think you should enjoy tea the way you like it, I like mine very strong with no sweetener, these are just guidelines and I suggest you use the guideline then adjust for your own tastes.
SaveSaveSaveSave