Boulder Tea Shop and a selection of tea
Company Name: BOULDER TEA SHOP
Company highlights, notes and more:
Boulder Tea Shop LLC started with the idea of providing Boulder with an exceptional tea experience.  Although the tea houses in town are great, we wanted to provide a more inclusive product that caters to those moving forward with their knowledge of tea.
When you think about our tea, I want you to think about what Boulder is. This is not just a tea brand, but a community that emulates the Boulder lifestyle. Yoga, meditation, snowboarding, biking, hiking, wake-boarding, swimming, climbing and running are just some of the lifestyle choices that we admire. Whether it is staying healthy, pushing your limits, being mindful, or basking in the sun, this tea is for any person striving to better themselves and move forward towards greatness. (see their site for more on Boulder Tea).
And I like this from the owner: 

This is why I chose to sell my tea. I care about our community and wish to contribute in any way I can. I love tea and would be happy to meet and make a free cup for anyone interested in expanding their knowledge and exploring new varieties. I am selling this tea because I wholeheartedly believe in my product. I love tea and would never sell you an inferior product. Tea to me is the Holy Grail, the Buddha, the Mother Earth. It is a delicacy, is super healthy, and has always kept me going.
Read more and visit the website: CLICK HERE.
~~~~~~~~~~~~~~~~~~~~~~~~~~~~~~~~~~~~~~~~~~~~~~~~~~~~~~~~~~~~~
Companies Use of Pesticides and Toxins:
Contact the company for details….
~~~~~~~~~~~~~~~~~~~~~~~~~~~~~~~~~~~~~~~~~~~~~~~~~~~~~~~~~~~~~
TEA SELECTIONS:
Cost: $7.49/ 1 oz.
Price may vary according to the amount purchased.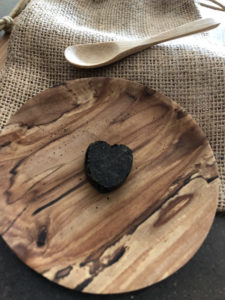 Interesting Highlights:
Lovely fun tea compressed into a small heart shape.
Ingredients:
A full bodied blend of dark tea with rose petals
Review:
I always expect these teas to be dark, this one however was not as dark as most and it's aroma was breath-taking. The light fragrance of floral will fill you with victorian memories or dreams. Think castle or royalty. I often like to break these apart prior to brewing but this one I just put right into the brew and it opened up like a flower. You can get multiple brews from just one. The brew is medium, body is full with a floral rose scent.
Afertaste: none
Biterness: none
Notes:
Floral
Earthy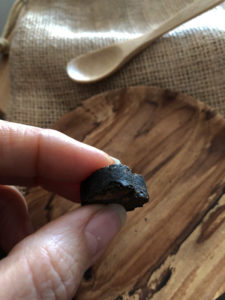 ~~~~~~~~~~~~~~~~~~~~~~~~~~~~~~~~~~~~~~~~~~~~~~~~~~~~~~~~~~~~
Cost: $5.49 / 1 oz.
Price may vary according to the amount purchased.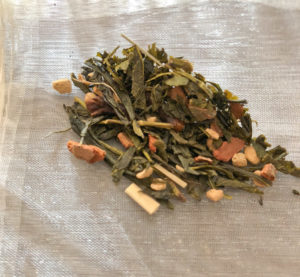 Interesting Highlights:
I first review a tea then I list the ingredients. My surprise.. no apple! Yet there is a very obvious apple or fruity base. I'm still saying apple.
Ingredients:
Chinese Green Tea
Cinnamon
Clove
Ginger
Flavor (wonder what this flavor is)
Lemongrass
Review:
This tea is so interesting as each sip brings along a new spice sensation, I've not had many teas do that prior and it may be due to the cooling of the cup. First sip was more of a Cinnamon, then clove. It's a nice tea that will warm you up and also remind you of fall. There is a slight aftertaste of a green apple flavor. It's slightly bitter with no aftertaste. The brew is light and the tea is fragrant. The green tea is an added bonus for all of it's health benefits.
Afertaste: none
Biterness: slight
Notes:
Spicy
Fruity
~~~~~~~~~~~~~~~~~~~~~~~~~~~~~~~~~~~~~~~~~~~~~~~~~~~~~~~~~~~~
Cost: $5.49/ 1 oz.
Price may vary according to the amount purchased.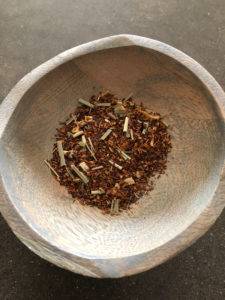 Interesting Highlights:
Caffeine Free tea or herbal tisane.
Ingredients:
organic rooibos
lemongrass
lemon pieces
Review:
This is a smooth tea with a virus earthy taste to it. Rooibos has it's own distinct flavor and it's blend with the lemons in this tisane is delightful. The rooibos is mellow and the lemon or citrus notes come to the front. It's not sour at all bu delightful and mellow. It's a smooth tea that I'd love to try iced I think it would make a great iced tea.
Afertaste: none
Biterness: none
Notes:
Citrus
Fruity
Nutty
******************************************************************
I hope you all are enjoying and sharing our tea reviews. I love our tea loving community and as tea continues to grow and flourish so will our reviews. I plan on keeping us all informed on what is going on, what is new, what is bad and simply what is.
Please take a moment to sign up for our newsletter and follow us on Facebook, Twitter and Instagram. So much more to share and the newsletter gives us discounts, giveaways and tea company's inspirations. Don't be left out of our community.
Below I have included an instructional brewing chart to help you brew your teas.
Like us? Love us? Want a certain tea reviewed?
SEND US YOUR COMMENTS!
(So serious, write to me and tell me what you are thinking, I honestly want to hear from everyone!)
Don't forget to follow me and make sure you say Hello!
******************************************************************
AVERAGE BREWING INSTRUCTIONS:
These are common instructions for brewing teas, however if the company suggests other brewing I will include it in the review section.
Time and Temperature Guide:
Tea Temperature Minutes
Black 95°C / 205°F 3 – 5
Oolong/White 85°C / 185°F 3 – 4
Green/Yellow 80°C / 176°F 2 – 3
Herbal/Tisanes. 100°C / 212°F 5 – 15
** As always stated by My Tea Vault, we think you should enjoy tea the way you like it, I like mine very strong with no sweetener, these are just guidelines and I suggest you use the guideline then adjust for your own tastes.