Brick Aged White Tea 2007 – Tea Review – Shang Tea
Tea Selection: Brick Aged White Tea (2007)
Name: Shang Tea
Location: Retail: Kansas City, MO.
Tea Company Comments taken from their webpage:
Owner Zehua Shang, a native of China, founded Shang Tea in 2005. Having grown up in China, Shang has an appreciation and knowledge for fine teas as well as for the rich history of tea that dates back thousands of years. After moving to the United States in 2000, he saw the opportunity to share part of his culture that has been benefiting the health of his people for centuries.
All our teas are High Mountain grown in the Fujian Mountains, which are renowned for having the perfect climate, soil & water. What makes these loose leaf teas truly superior in flavor and quality is the beautiful climate in which the tea plants are grown. Cultivated at high altitude on the mountains, the tea plants flourish under the ideal climatic conditions. Far removed from the metropolitan areas. To get to these tea fields, we have to always walk hours on small paths.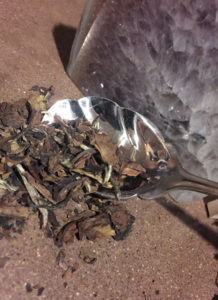 Personally:
My first experience with Shang Tea was at the 2016 Midwest Tea Festival, I contacted them after being able to see and sample a few of their teas. I was interested in more and once home checked out their website and their amazing story of creation and teas.
There is something simply amazing about straight brewed tea, no added flavors, berries or fruits, just the tea. From one tea to the next it's amazing say how a white tea can have so many different flavors because of where it was grown, how it was harvest and then prepared. It's the magic of tea and part of the magic that Shang Tea shares with us.
Read more about Shang Teas on their website: Shang Tea.
BREWING INSTRUCTIONS:
These are common instructions for brewing teas, however if the company suggests other brewing I will include it in the review section.
Time and Temperature Guide:
Tea      Temperature Minutes
Black      95°C / 205°F 3 – 5
Oolong/White 85°C / 185°F 3 – 4
Green/Yellow 80°C / 176°F 2 – 3
Herbal/Tisanes.         100°C / 212°F 5 – 15
** As always stated by My Tea Vault, we think you should enjoy tea the way you like it, I like mine very strong with no sweetener, these are just guidelines and I suggest you use the guideline then adjust for your own tastes.
INGREDIENTS:
Organic White Peony leaves
COSTS: $15.00 / 1 ounces
Price may vary according to the amount purchased.
REVIEW
From Shang Tea: Brick aged white tea is a relatively new style of processing in China. For this tea, we first started by aging our 2007 white peony king for one year. At the end of the year, the leaves were steamed to make them pliable and then pressed into cakes. These cakes were then stored at about 40-60% humidity to encourage the good bacteria to slowly ferment the fresh tealeaves. Over the past 5 years, these bricks have been aging, bringing on a nice woodsy, earthy quality to them with that smooth finish that you have come to expect from our teas. We broke up the brick tea into a loose-leaf form to make it easier to enjoy, but we also have a whole brick available for purchase as well.
Prior to brew: Light fragrance with a soft subtle nutty scent.
Brewed: This tea has a pale yellow liquor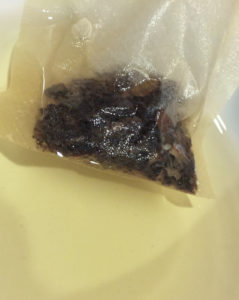 Scent: Vegetal scent after brew.
Flavor: Medium bodied with a slightly vegetal/bitter and nutty flavor, even bodied throughout first sip to last and no aftertaste left.
Sentiments: Love the way this tea is so even tempered all the way through with no surprise aftertaste or bitterness. Medium bodied as it goes down smoothly.
My Tea Vault score values of 1-10 (10 being the best): "8".
Till next sip…