Bushwick Kitchen – Bees Knees Honey – Review
Bushwick Kitchen and Bees Knees Honey
My Tea Vault is very interested in teas but of course we love the tea community that supports our love of tea. That being said I always so proud when companies contact me to review other products. Like honey, like Bushwick Kitchen!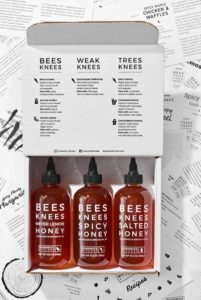 Bushwick Kitchen sent me a package of three honeys and I was excited to dive right in. Generally I test my honey on a biscuit of something but this time I just took a spoonful of each and each one has it's own story to tell. Each one is unique and created with honey lovers in mind. We can take that love and pour it into our tea and WOW we can change our tea into something just a little bit different and unique.
There was a method to my "madness" as I chose Meyer Lemon Honey first!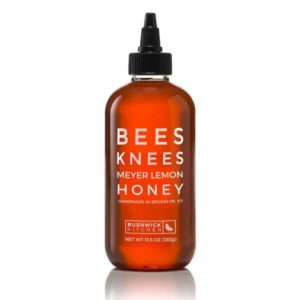 This honey from the Hudson Valley is infused with a squeeze of citrus it can be used on berries, baked scones or even a plate of fried chicken (so trying the chicken with this).
The ingredients are:
Wildflower Honey and Meyer Lemon Rind
Cost is $13.99
Do not be intimidated by the citrus added to this honey, it's not crazy citrus flavor, in fact it was so very light it is hardly noticeable. The honey is definitely the ingredient that stands out here. It's sweet and refreshing. You can taste a difference but without knowing what it is you may not be able to detect the citrus flavor.
If you want a honey that is just a tad bit different this is the one for you, it's honey with just a slight bit of difference.
*************************************
The Next Honey is Salted Honey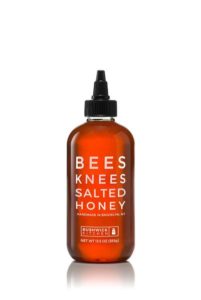 I was excited to try this because I love salt. Salt and Sweet is a favorite of many people and this honey delivered.
As soon as this honey hits your lips you taste the salt, you know it's different and your eyes light up. Immediately following is the sweet and it's a great balance of salt and sweet. A friend told me it tasted like kettle corn minus the corn. I think it tasted better then that.
Ingredients are:
Wildflower Honey and Sea Salt
Cost is $13.99
Simple ingredients for a product that is anything but simple.
They suggest using this on soft goat cheese, spread on top of some freshly buttered bread or to scoop onto a warm fruit cobbler.
I think you should just eat it by the spoonful :-). Also put it on a biscuit that would be a really amazing flavor sensation.
***************************************
Finally we come to the final bottle of honey
Spicy Honey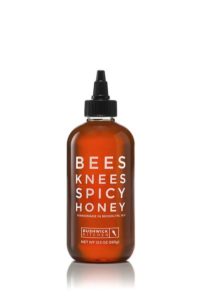 I found this whole concept interesting and could not imagine a honey that was spicy. SO I left it for last thinking it's either going to be really bad or really incredible.
So here we go, squeeze onto the spoon, deep breath and taste.
Nothing…. OH WAIT.. WOW… There it is.
This was fun, this honey will sneak up on you. On first taste it's sweet but as soon as you swallow that heat rises and there it is. It's not overbearing at all, it's fun and interesting. I mean really fun. There is so much you can do with this honey and there are a ton of recipes on their website that you can try.
Check out those recipes HERE
Ingredients are:
Wildflower Honey and Chile Peppers
Cost: $13.99
Again notice simple ingredients yet an amazing product!
These products are high class natural ingredients with the client in mind. They are fun yet serve a purpose. You are going to have fun exploring all the possibilities of these honeys and making your own creations using them.
Enjoy in the best of everything good!