Ceylon Ivory vs Ceylon Gold Thanks to Teakruthi and TeaScientist (twitter)
Company Name: TEAKRUTHI (the great Ceylon challenge)
TEA SELECTION: CEYLON IVORY VS CEYLON GOLD
888888 PICTURE 888888888
It's really not a versus as much as it is a comparison of the two teas. Recenttly I was asked by
"What's the difference between Ceylon Ivory and Ceylon Gold", so I decided to set aside some time to do a side-by-side comparison of the two Sri Lankan Teas from Teakruthi. Sri Lanka also has six tea growing regions that allow tea to grow all year round.
Our normal format will be adjusted slightly for the comparison.
Interesting Highlights:
Ceylon Ivory: I love the whole leaf and stems in this tea, it really stands out as a true single origin tea, hand picked and processed in a way to preserve its leaf. The Ceylon Ivory is from the Sri Lanka's Ruhuna (Southern or Matara) region
Brewed at 185F for 5 minutes, test was done on the 2nd steeping.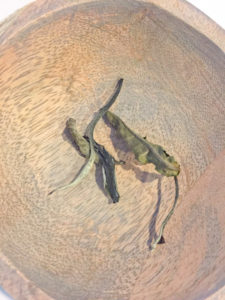 Ceylon Gold: A more needle of the leaf rolled tightly into a needle shape, very firm. Ceylon Gold teas come from the Nuwara Eliya (High grown) region. Brewed at 185F for 4 minutes, test was done on the 2nd steeping
I enjoy that both teas packaged and shipped to me in the United States still came whole with little damage to the leaves.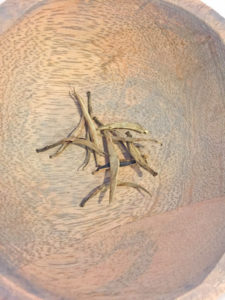 Ingredients:
Both teas are processed as 'White Teas' are while still a young bud enclosed in leaves. During processing the Ceylon Gold leaves are dipped in tea liquor and sundried to get its golden color. Sri Lanka has 6 tea growing regions that allow tea to grow all year round.
The Scent or Aroma:
Ceylon Ivory: Grassy, Muddy and Woody aroma
Ceylon Gold: Meadow, Sweet, Roasted Nutty aroma
Review:
Ceylon Ivory: Once brewed this tea really mellows out as the tea releases its flavor into the water. The Ceylon Ivory has a light yellow liquor with a very mellow slightly nutty/earthy flavor. The scent is one of a light earthy scent.
Ceylon Gold: Prior to brew this tea had a sweet almost floral or meadow scent. Brewing this tea produced beautiful medium brown liquor. Despite the medium brown liquor this tea was mellow however slightly more bold then the Ceylon Ivory. The Ceylon Gold has a nutty roasted flavor with a floral undertone.
Cost:
Ceylon Ivory: $72.50/30 cups or $11.50/ 10g sample
Ceylon Gold: $55.00/30 cups or $11.50/ 10g sample
Price may vary according to the amount purchased.
********************************
Sri Lankan Tea is celebrating its 150th years on July 6th and I'm honored to have sampled some of the most amazing teas from Sri Lanka.
Company highlights, notes and more:
Originating from Ceylon, home to the world's finest tea, we are teakruthi and hope to inspire a healthier lifestyle through the perfect 'cup-a-tea'. Tea is in our culture and we know that perfection begins at the source. Our teas are thus hand plucked and ethically sourced from the world's finest plantations in Sri Lanka (formerly Ceylon), arriving at your doorstep garden fresh. Our teas have no artificial or GMO's (Genetically Modified Organisms).
Like most natural products, tea tastes best when fresh. However most teas on the market are far from it, taking nearly a year to reach your cup as they pass through a supply-chain of multiple middlemen and storage houses. As your tea makes this long journey from the plantation to your home, it gradually goes flat losing its natural flavor and aroma. As such some common tea brands chemically enhance their teas with natural and artificial flavoring or GMO's.
teakruthi delivers teas direct from the Plantation to your doorstep within three months. Due to the short lead-time and direct sourcing model our teas taste delicious with no artificial additives. How do we do this?
We eliminate the middlemen and source directly from some of Sri Lanka's finest estate factories
Our just-in-time demand algorithms allow us to order tea supply only as needed, reducing storage stock and wastage
Sri Lanka is the only source market that grows tea all year around, eliminating the need for us to stock supply to service off-season orders.
Read more or visit their website: CLICK HERE.
******************************************************************
I hope you all are enjoying and sharing our tea reviews. I love our tea loving community and as tea continues to grow and flourish so will our reviews. I plan on keeping us all informed on what is going on, what is new, what is bad and simply what is.
Please take a moment to sign up for our newsletter and follow us on Facebook, Twitter and Instagram. So much more to share and the newsletter gives us discounts, giveaways and tea companies inspirations. Don't be left out of our community.
I've included an average brewing instruction chart below to help you brew your teas.
Like us? Love us? Want a certain tea reviewed?
SEND US YOUR COMMENTS!
(So serious, write to me and tell me what you are thinking, I honestly want to hear from everyone!)
Don't forget to follow me and make sure you say Hello!
******************************************************************
AVERAGE BREWING INSTRUCTIONS:
These are common instructions for brewing teas, however if the company suggests other brewing I will include it in the review section.
Time and Temperature Guide:
Tea      Temperature Minutes
Black      95°C / 205°F 3 – 5
Oolong/White 85°C / 185°F 3 – 4
Green/Yellow 80°C / 176°F 2 – 3
Herbal/Tisanes.         100°C / 212°F 5 – 15
** As always stated by My Tea Vault, we think you should enjoy tea the way you like it, I like mine very strong with no sweetener, these are just guidelines and I suggest you use the guideline then adjust for your own tastes.