Christmas Blend | Special-Teas | Volant Pa.
Tea Selection: Christmas Blend
Company Name: Special-Teas, Etc.
Location: Volant, Pa.
Brand: Three Thousand Leaves
Founded: 1983
Founder: Roberta Butchy
Tea Company Comments taken from their webpage:
Started in a small kitchen in southwestern Pa. The line of teas they carry are "Three Thousand Leaves" and they chose that name for the first recorded usage of a camellia sinuses plant for tea which dates back 3,000 years. The second reason is because it is said one tea plant will produce 3,000 leaves in it's life time.
Their blog has not been updated since February of 2015, however if you click the menu link by the web address there is a lovely letter about fall and visiting Volant!
The website does not hold a lot of answers of who they are and why they have chosen tea, however once you step inside their store you will know that this is a place of tea lovers.
One thing very unique and cute is they have taken the index card cabinets from libraries and filled them with different teas
There were so many to chose from as well as a sample of the day and a lot of fun Tea Stuff. My review of their shop will be on the blog shortly but for now, let's get on to the teas I purchased and tell you all about them.
Read more about Special-Tea Teas on their website: Special-Teas, Etc. www.specialteasetc.com
INGREDIENTS:
Black Tea, Cinnamon Pieces, Cloves, Jasmine Buds, Natural Flavors, Candy Pieces.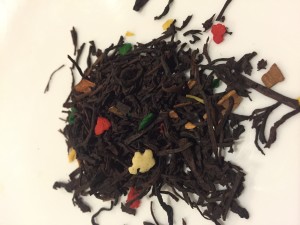 COST: varies according to what you purchase.
REVIEW:
Prior to brew: Dark tea with multi colored christmas candies
Brewed: Medium amber color.
Scent: Smelled like christmas, cinnamon sweet scent.
Flavor: Tea is sweetened by those little ornamental sugars included in the tea.
Sentiments: Mild tea with a slightly bitter aftertaste. There is an absolute clove taste to this tea.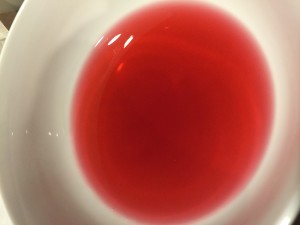 Till next Tea….