Denong Tea – 2017 Mountain Oasis Raw Pu-erh
Company Name: DENONG TEA
You can find links to Denong Tea at the bottom of the blog after the company information!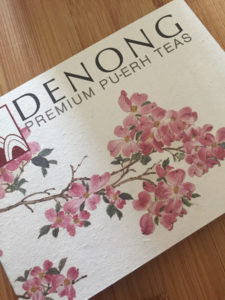 TEA SELECTION: 2017 MOUNTAIN OASIS / RAW PU'ERH TEA SPRING HARVEST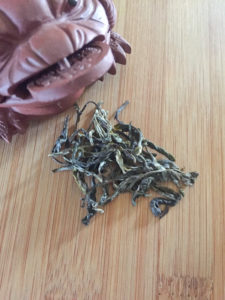 Interesting Highlights:
I will say it over and over again, never judge a tea by it's scent, because what the scent is like in the nose is nothing like it will taste, especially when you are dealing with a single origin tea.
Ingredients:
Raw Pu'erh
Review:
Upon opening this tea you get an interesting vegetal scent however upon brewing the roasting flavor really stands out.  Although it is still somewhat a green vegetal flavor the roasting of the tea leaves is defined along with an interesting woodsy almost dandelion flavor.  It's unique and special considering the lack of rains that have dried the land,  yet out of it all comes this amazing tea that I am honored to share with you today!
Cost: $30.00 / 100g cake
Price may vary according to the amount purchased.
~~~~~~~~~~~~~~~~~~~~~~~~~~~~~~~~~~~~~~~~~~~~~~~~~~~~~~~~~~~~
SPECIAL NOTE:
We are honored at times like this to experience a unique tea, not because of a company name or in the way a tea is produced but in the way nature has brought a tea forth through no help by humans and at times it may appear as if it's a hardship, yet a tea, like this pu-erh is harvested and created is simply a miracle.  It's an honor to have sampled this tea, for myself and for all of you!
~~~~~~~~~~~~~~~~~~~~~~~~~~~~~~~~~~~~~~~~~~~~~~~~~~~~~~~~~~~
Mountain Oasis is not only the name of one our newest products, but also indicative of a larger theme amongst our new teas.
This year, severe drought conditions in the mountainous regions of Yunnan where we source our tea have led to a much smaller harvest, and therefore more limited supply of tea.
The tea that has been harvested, however, is made that much more intense in flavor and complexity, and is refreshing and re-invigorating as an oasis.
Experience the luxurious sensation of Pu-erh tea with Denong Tea.
~~~~~~~~~~~~~~~~~~~~~~~~~~~~~~~~~~~~~~~~~~~~~~~~~~~~~~~~~~~~
Company highlights, notes and more:
In 1998, Our parent company Denong Tea Company first started conducting tea-related trade in Yunnan Province, China. In 2005, they expanded and began manufacturing, storing, trading, and investing in Pu-erh tea. They were soon awarded numerous accolades after quickly earning the respect of both their customers and peers in the Pu-erh tea industry. After the company's success in China, Denong Tea opened up additional branches in Hong Kong and Taiwan.
All throughout the world, the name Denong has come to represent an assurance of quality and dignity. Our own Denong Tea Inc. was established as its US branch in 2012, and was officially launched in March 2016. Since then, we've dedicated ourselves to sharing the miracle of Pu-erh with an American audience. In the coming months, we will have the grand opening of a brick and mortar store in Pasadena.
Read more and visit the website: CLICK HERE.
******************************************************************
I hope you all are enjoying and sharing our tea reviews. I love our tea loving community and as tea continues to grow and flourish so will our reviews. I plan on keeping us all informed on what is going on, what is new, what is bad and simply what is.
Please take a moment to sign up for our newsletter and follow us on Facebook, Twitter and Instagram. So much more to share and the newsletter gives us discounts, giveaways and tea company's inspirations. Don't be left out of our community.
Below I have included an instructional brewing chart to help you brew your teas.
Like us? Love us? Want a certain tea reviewed?
SEND US YOUR COMMENTS!
(So serious, write to me and tell me what you are thinking, I honestly want to hear from everyone!)
Don't forget to follow me and make sure you say Hello!
******************************************************************
AVERAGE BREWING INSTRUCTIONS:
These are common instructions for brewing teas, however if the company suggests other brewing I will include it in the review section.
Time and Temperature Guide:
Tea      Temperature Minutes
Black      95°C / 205°F 3 – 5
Oolong/White 85°C / 185°F 3 – 4
Green/Yellow 80°C / 176°F 2 – 3
Herbal/Tisanes.         100°C / 212°F 5 – 15
** As always stated by My Tea Vault, we think you should enjoy tea the way you like it, I like mine very strong with no sweetener, these are just guidelines and I suggest you use the guideline then adjust for your own tastes.
SaveSave