Denong Tea – Puerh's on board!
Company Name: DENONG TEA
TEA SELECTION: 2005 GINSENG SCENT RIPE PUERH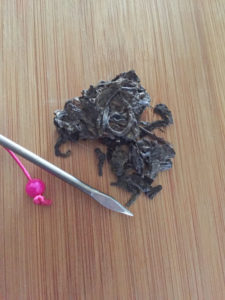 Interesting Highlights:
An interesting tea, dark in brew and a surprising flavor.
Ingredients:
Ripe Pu'erh.
The Scent or Aroma:
Light scent very familiar of single origin teas, the flavor and scent come from brewing.
Review:
This 2005 Ginseng Scent Ripe Pu'erh was surprising for me at how strong of a tea it was and very reminiscent of coffee. I don't taste or smell any ginseng but the tea does pack some power. I felt it more was like a malt or earthy flavor with a dark brew, enjoyable and an absolute great tea for those coffee drinkers you are trying to switch over to tea. 🙂
Cost: $35.00
Price may vary according to the amount purchased.
********************************
TEA SELECTION: 2016 DENONG BLACK TEA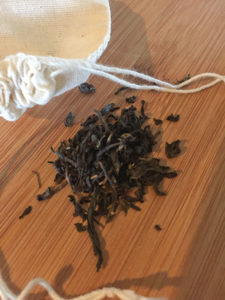 Interesting Highlights:
I love the leaves of this tea.
Ingredients:
Black tea
The Scent or Aroma:
Love the scent of this tea, some what of a dark malty chocolate! .
Review:
Love the notes in this tea as well as the coloring of the leaves, I love a pretty tea with it's twisted leaves. There is no bitterness or aftertaste but a smooth earthy flavor that just flows from lips to tongue to throat. It's a hearty full bodied tea as a medium brew.
Cost: $22.00
Price may vary according to the amount purchased.
TEA SELECTION: 2015 DENONG WILD RIPE PUERH TEA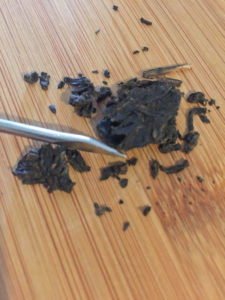 Interesting Highlights:
Strong tea for a lovely afternoon, I see this tea being sipped on a lovely hot summer day with a storm approaching, it's got strength yet a peacefulness to it.
Ingredients:
Pure tea, single origin
The Scent or Aroma:
Slight vegetal scent with a medium/dark brew.
Review:
Ripe is a good word for this tea, it taste fresh and ripe. It's a dark liquor with notes of bark and woods, there is a slight vegetal scent as well that makes this tea well rounded.
Cost: $33.00
Price may vary according to the amount purchased.
********************************
Company highlights, notes and more:
In a rapidly changing world, timelessness has become a rare virtue, and a seemingly impossible feat. In a world full of shortcuts and compromise, Denong Tea seeks out the timeless. Born on the mountains of Yunnan, ancient Pu-erh tea trees carry countless centuries worth of secrets and history. These ancient trees make up less than three percent of the tea trees in Yunnan Province, which is the only region in which these trees can thrive. The oldest of these trees is over 2,700 years old. It is our firm belief that the tea leaves from these trees makes the best Pu-erh in the world. It is timeless.
It's this discovery of the timeless that gives us our purpose and our inspiration. We consider ourselves guardians of the world's best Pu-erh, as gatekeepers to an ancient time and place. Every year, we journey hundreds of miles to the famous Pu-erh mountains to discover and rediscover the finest tea leaves in existence. When this tea is pressed into cakes or bricks, its story truly begins. Like a fine wine, good Pu-erh tea boasts an evolving composition and a flavor profile that's always growing in quality and complexity. Whether you choose to enjoy our tea now or hold onto it and watch its value soar, we hope you'll join Denong Tea in our quest for timelessness.
In 1998, Our parent company Denong Tea Company first started conducting tea-related trade in Yunnan Province, China. In 2005, they expanded and began manufacturing, storing, trading, and investing in Pu-erh tea. They were soon awarded numerous accolades after quickly earning the respect of both their customers and peers in the Pu-erh tea industry. After the company's success in China, Denong Tea opened up additional branches in Hong Kong and Taiwan.
All throughout the world, the name Denong has come to represent an assurance of quality and dignity. Our own Denong Tea Inc. was established as its US branch in 2012, and was officially launched in March 2016. Since then, we've dedicated ourselves to sharing the miracle of Pu-erh with an American audience. In the coming months, we will have the grand opening of our first brick and mortar store, located in Pasadena.
Read more and visit the website: CLICK HERE.
******************************************************************
I hope you all are enjoying and sharing our tea reviews. I love our tea loving community and as tea continues to grow and flourish so will our reviews. I plan on keeping us all informed on what is going on, what is new, what is bad and simply what is.
Please take a moment to sign up for our newsletter and follow us on Facebook, Twitter and Instagram. So much more to share and the newsletter gives us discounts, giveaways and tea company's inspirations. Don't be left out of our community.
Below I have included an instructional brewing chart to help you brew your teas.
Like us? Love us? Want a certain tea reviewed?
SEND US YOUR COMMENTS!
(So serious, write to me and tell me what you are thinking, I honestly want to hear from everyone!)
Don't forget to follow me and make sure you say Hello!
******************************************************************
AVERAGE BREWING INSTRUCTIONS:
These are common instructions for brewing teas, however if the company suggests other brewing I will include it in the review section.
Time and Temperature Guide:
Tea      Temperature Minutes
Black      95°C / 205°F 3 – 5
Oolong/White 85°C / 185°F 3 – 4
Green/Yellow 80°C / 176°F 2 – 3
Herbal/Tisanes.         100°C / 212°F 5 – 15
** As always stated by My Tea Vault, we think you should enjoy tea the way you like it, I like mine very strong with no sweetener, these are just guidelines and I suggest you use the guideline then adju