I decided to do an Earl Grey challenge with the Earl Grey Teas I had to taste test, it sure is a small dent into the Earl Grey World but out of the four they had distinct tastes, so here we go!
Company Name: The Metropolitan Tea Company
Location:
Brand:
Founded:
Founder: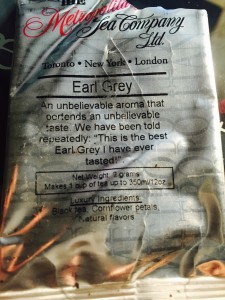 Their website seems to be mostly locked down unless you are a wholesale buyer, it's sad because I like to report a bit about the company as well as the tea. I can say they are into fair trade, and huge on carbon footprints doing what they can to help the environment.
When you go to their about page it's a huge list of master tea experts and other people that aide them in what they do but nothing about the company, founder or background. I wish I had more to give you, unless you are a wholesaler there is not going to be much information on the teas or the company.
Read more about Metropolitan Tea on their website: Metropolitan Tea Company
A competition of the Earl Grey Teas, this tea rated a 2 out of 4.
Ingredients:
Black tea
Natural flavors
Costs at the time of this writing:   Wholesale only
Review:   This tea was part of the Earl Grey challenge were I taste tested 4 Earl Grey teas and graded each on a 1-4 grade.   Metro tea made a very nice tea with its Earl Grey.   Touted as a Luxury Tea this tea does have an exciting aroma and flavor. It has the right mix of flavors and black tea. Out of the 4 teas that I tested this one came in at number 2. It really was a toss up between one and two. I think I just liked it's flavor a little bit less, but honestly as this being number two if you find this tea out and about it will be a great tea and a joyful experience.
Hot Tea Taste Facts:
Great hot tea and not so great iced. I'm not sure what it is about the Earl Grey's but when you mix them with ice they just really lose their robust flavor. This tea reminds me of tea that mother used to make or in most cases grandmothers.
Till next tea