I decided to do an Earl Grey challenge with the Earl Grey Teas I had to taste test, it sure is a small dent into the Earl Grey World but out of the four they had distinct tastes, so here we go!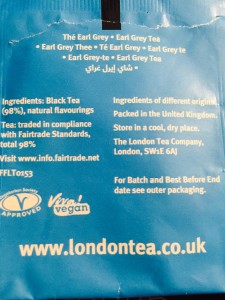 #3
Company Name: London Tea Company
Location:               London England
Brand:
Founded:              2003
Founder:
Tea Company Comments taken from their webpage:
Blending, brewing and drinking ethical teas since 2003, London Tea Company is determined to spread the word on how great ethical tea can be. We have developed an exciting range of Fairtrade teas and herbal infusions which are packed with flavour and help provide a fair price the growers and their communities.
Read more about London Tea on their website: The London Tea Co.
A competition of the Earl Grey Teas, this tea rated a 3 out of 4.
Ingredients:
Black Teas
Natural Flavorings
Costs at the time of this writing:  4.4 oz – $10.99
Review:
This was a blind taste test challenge with Earl Grey teas from four different companies. This earl grey came in third. It's a good tea and I won't take anything away from that however compared to the other four this tea just seemed to be bland and had nothing unique about it. It's a combination of two black teas from Ceylon and the Nilgiris. The website says it has added a natural bergamot but I really did not sense or taste any other flavoring.
Hot Tea Taste Facts:
This was a nice tea and hot it was good with a strong flavor and smooth, it's strictly black tea with no outside flavors influencing it. It was also great with milk and iced as well.
Till next Tea….Earl