I decided to do an Earl Grey challenge with the Earl Grey Teas I had to taste test, it sure is a small dent into the Earl Grey World but out of the four they had distinct tastes, so here we go!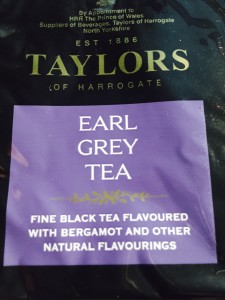 #4
Company Name: Taylors
Location:               New Stanton, Pa.
Brand:                    English Tea Store
Founded:
Founder:
Tea Company Comments taken from their webpage: Disappointed in their website about page but it does list a few certifications and the fact that they are a member of the Tea Association of the USA. They offer many different styles of tea and supplies as well as some British items you may enjoy looking at.
Read more about Taylor's Tea on their website: Taylor Tea
A competition of the Earl Grey Teas, this tea rated a 1 out of 4.
This was a black tea a basic Breakfast tea. It came to me in a tea bag form and brewed a perfect cup of tea
Ingredients:
Black Tea
Bergamot
Natural Flavorings
Costs at the time of this writing:   4.4 oz. loose leaf – $10.00
Review:  The Taylor's tea state on the front of the package " By appointment to HRH The Price of Wales Suppliers of Beverages, Taylors of Harrogate, North Yorkshire.
When I compared the 4 Earl Grey's I did not know what one I was tasting. This one, by Taylors was superior to the rest. The smell was very not at all like the tea tasted, the smell was very brisk and even a bit harsh, but this tea steeped in hot water for about 3 minutes was incredible and a joy to taste. A perfect match with tea and flavors. I do wonder what "other natural flavors" are and I worry about companies that put that in their ingredients but this tea out of the four others was top of the pack!
Hot Tea Taste Facts:
This tea as a hot tea is strong and a very basic black tea.
As a cold tea you can add some nice flavored honey to really spice it up a bit and add some elegant flavor to it.
Till next Tea….