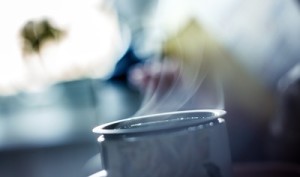 Hands-On Time 20 minutes Total Time 70 minutes Other Time 0 minutes
Makes 6 dozen cookies
Ingredients
2 cups all-purpose flour
1/2 cup granulated sugar
1/2 cup confectioners' sugar
2 tablespoons Earl Grey tea leaves, from approximately 6 tea bags
1/2 teaspoon salt
1 teaspoon pure vanilla extract
1 cup unsalted butter, cut into pieces
Directions
1          Heat oven to 375°F. Pulse together all the dry ingredients in a food processor until the tea leaves are pulverized. Add the vanilla, 1 teaspoon water, and the butter. Pulse together until a dough is formed.
2          Divide the dough in half. Place each half on a sheet of plastic wrap and roll into a 12-inch log, about 2 inches in diameter. Wrap and chill for 30 minutes.
3          Slice each log into disks, 1/3 inch thick. Place on parchment- or foil-lined baking sheets, 2 inches apart.
Bake until the edges are just brown, about 12 minutes. Let cool on sheets for 5 minutes, then transfer to wire racks.E