Earl is Green | Tranquilo Tea
Tea Selection: Earl is Green
Company Name: Tranquilo Tea
Location: Edmonton, AB
Founded: no information listed
Founder: no information listed
Tea Company Comments taken from their webpage:
Our mission is to supply our customers with the best teas, while giving a portion of proceeds back to local and global causes we believe in. We only source our teas from companies who have a history of ensuring ethical treatment of all employees on the tea estates and do not use child labor.
Our guarantee to you……..
NO preservatives, NO added sugars, and NO artificial colors!!
Personally:
The one thing I like about Tranquilo's packaging is all the information they give you about the tea, the caffeine levels, Antioxidant level and steeping guide.
Read more about Tranquilo Teas on their website: Tranquilo Teas.
INGREDIENTS:
Green Tea
Cornflower and Jasmine petals
Natural flavors
COSTS: 7.24 CAD / 2 ounces  varies according to what you purchase.
REVIEW: This medium bodied tea was a surprise to me, I expected a veggy/grassy taste and yet it had none. The color of this tea is a delightful mild yellow and it has a surprising sweet scent, almost a slight mint scent to it.   On first sip there is a strong bergamot flavor but no vegital at all and it has a very pleasant floral taste. The leaves are also very strongly wrapped when dry but unwind and become a beautiful leaf in your brew. I liked this tea and would recommend this tea to anyone first trying Green Tea or those that are not very favorable towards a green tea
Prior to brew:
Brewed: mild yellow color
Scent: a slight mint scent
Flavor: floral
Sentiments:
My Tea Vault score values of 1-10 (10 being the best): "9 "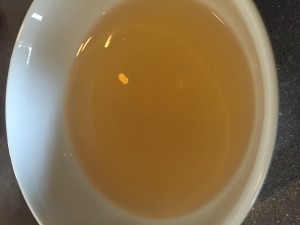 Till next Tea….