EMILIE'S FRENCH TEAS – AMAZINGLY GOOD
Company Name: EMILIE'S FRENCH TEAS
TEA SELECTION: NUIT D'ETE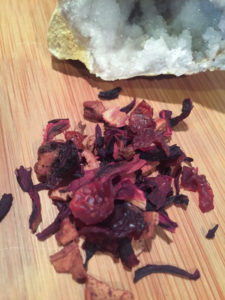 Interesting Highlights:
Sangria anyone?
Ingredients:
Hibiscus flowers
Apple bits
Rose hip peels
Flavored with raspberry, strawberry and cream flavors.
Review:
Grab a few ice cubes and join a lovely fruity tea that will remind you of summer! This herbal tea has a fruity taste with a slightly sweet flavor and surprisingly not sour like most fruit teas, lovely beautiful red liquor. Lovely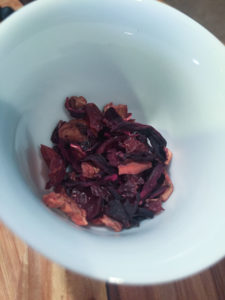 Cost: No pricing listed
Price may vary according to the amount purchased.
~~~~~~~~~~~~~~~~~~~~~~~~~~~~~~~~~~~~~~~~~~~~~~~~~~~~~~~~~~~~
TEA SELECTION: CARAMEL AU BEURRE SALE'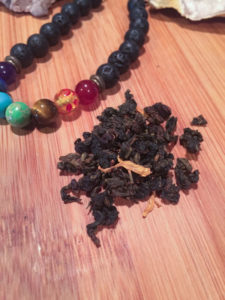 Interesting Highlights:
Salty Caramel Tea anyone?
Ingredients:
Oolong tea
Salted butter caramel flavor
Flower petals
Review:
A sweet, salty floral tea with a real unique roasted taste. This tea reminds me of caramel icing just not as sweet. The light amber colored liquor is delightful.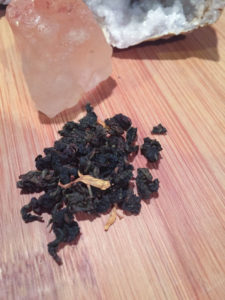 Cost: No pricing listed
Price may vary according to the amount purchased.
~~~~~~~~~~~~~~~~~~~~~~~~~~~~~~~~~~~~~~~~~~~~~~~~~~~~~~~~~~~~~
SPECIAL NOTE:
You are going to have to visit Emilie's to find her amazing teas however I have been told it is quite the experience with a mixture of cultures and divine goodness of teas. If you visit let them know My Tea Vault sent you!
~~~~~~~~~~~~~~~~~~~~~~~~~~~~~~~~~~~~~~~~~~~~~~~~~~~~~~~~~~~~
Company highlights, notes and more:
"Regardless of cultural differences, tea brings people together. In the East, it is omnipresent: at village hostels in China, in tiny Egyptians cafes, in stations and trains, in Bedouin tents, and from street vendors. All kinds of business are conducted and the most secret of secrets may be shared over a cup of tea. Tea reaches across the generations."
When creating the tea room Emilie and her Husband Alex wanted to re-create the atmosphere of the tea rooms that Emilie used to enjoy visiting with her mother when she was living in France. Most of the decoration come from France and the pictures hanged on the wall represent the different places Emilie and Alex visited in France and other countries. From picking green tea in Chang Mai to enjoying a cup of tea in one of the most fine Tea Rooms in Paris.
The French Tea Room (or Salon de Thé) provides an inviting place to relax and connect with the community. It is a peaceful and quiet place where you can come alone or with friends to enjoy a delightful cup of tea.
Emilie's French Teas is also a tea shop where you can buy fine teas by the ounce or by the tin. We offer a variety of teaware and accessories so you can enjoy the perfect cup of tea at home.
Read more and visit the website: CLICK HERE
******************************************************************
I hope you all are enjoying and sharing our tea reviews. I love our tea loving community and as tea continues to grow and flourish so will our reviews. I plan on keeping us all informed on what is going on, what is new, what is bad and simply what is.
Please take a moment to sign up for our newsletter and follow us on Facebook, Twitter and Instagram. So much more to share and the newsletter gives us discounts, giveaways and tea company's inspirations. Don't be left out of our community.
Below I have included an instructional brewing chart to help you brew your teas.
Like us? Love us? Want a certain tea reviewed?
SEND US YOUR COMMENTS!
(So serious, write to me and tell me what you are thinking, I honestly want to hear from everyone!)
Don't forget to follow me and make sure you say Hello!
******************************************************************
AVERAGE BREWING INSTRUCTIONS:
These are common instructions for brewing teas, however if the company suggests other brewing I will include it in the review section.
Time and Temperature Guide:
Tea      Temperature Minutes
Black      95°C / 205°F 3 – 5
Oolong/White 85°C / 185°F 3 – 4
Green/Yellow 80°C / 176°F 2 – 3
Herbal/Tisanes.         100°C / 212°F 5 – 15
** As always stated by My Tea Vault, we think you should enjoy tea the way you like it, I like mine very strong with no sweetener, these are just guidelines and I suggest you use the guideline then adjust for your own tastes.