Farmers Brothers Artisan Tea Review: Chamomile Lavender Mint
Company Name: FARMER BROTHERS COFFEE AND TEA
**Direct link to main tea site is located below the Company Details below tea reviews!**
TEA SELECTION: CHAMOMILE LAVENDER MINT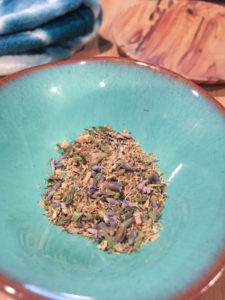 Interesting Highlights:
This is from their new artisan collection and it s speciality collection of hot teas. From what I've seen with this one sample the collection will be well worth the creation and the consumption.
Another plus is an organic nature of this tea an added plus in any tea.
The tea string is short, it honestly was not a problem for me but I've been informed that that has already been addressed and you'll be seeing a difference in the near future.
Ingredients:
Organic Chamomile
Organic Lavender Petals
Organic Spearmint
Review:
I loved the look of this tea brewed as well as the mixture inside the lovely tea bag. The scent is a mint/chamomile mix. The flavor is a sweet mint and a chamomile aftertaste. The lavender is present with a very slight floral note. The tea is calming and peaceful.
Cost: not introduced on their website yet
Price may vary according to the amount purchased.
~~~~~~~~~~~~~~~~~~~~~~~~~~~~~~~~~~~~~~~~~~~~~~~~~~~~~~~~~~~~
~~~~~~~~~~~~~~~~~~~~~~~~~~~~~~~~~~~~~~~~~~~~~~~~~~~~~~~~~~~~
Company highlights, notes and more:
For over a century, the Farmer Brothers company has built our business on providing extraordinary products at incomparable value to coffee-minded food service operators all across the country.
Farmer Brothers company history begins in 1912, when Roy E. Farmer thought it crucial that restaurants serve a quality cup of coffee, yet he couldn't find one that did. Making and distributing coffee to restaurants and their patrons became his mission. Roy opened Farmer Brothers Coffee Company, headquartered in the back of his brother's bicycle shop, and did just that.
Over the next 100 years, the Farmer Brothers company continued to evolve and flourish, growing branch by branch and customer by customer. Through a series of product line expansions and acquisitions, and a relentless commitment to continuously invest in customers, service and technology, the Farmer Brothers company has established itself today as a leading national roaster, manufacturer, wholesaler and distributor of high-quality branded and private label coffees, teas, spices and culinary products to foodservice, convenience stores and grocery retailers.
C
Read more and visit the website: CLICK HERE.
******************************************************************
I hope you all are enjoying and sharing our tea reviews. I love our tea loving community and as tea continues to grow and flourish so will our reviews. I plan on keeping us all informed on what is going on, what is new, what is bad and simply what is.
Please take a moment to sign up for our newsletter and follow us on Facebook, Twitter and Instagram. So much more to share and the newsletter gives us discounts, giveaways and tea company's inspirations. Don't be left out of our community.
Below I have included an instructional brewing chart to help you brew your teas.
Like us? Love us? Want a certain tea reviewed?
SEND US YOUR COMMENTS!
(So serious, write to me and tell me what you are thinking, I honestly want to hear from everyone!)
Don't forget to follow me and make sure you say Hello!
******************************************************************
AVERAGE BREWING INSTRUCTIONS:
These are common instructions for brewing teas, however if the company suggests other brewing I will include it in the review section.
Time and Temperature Guide:
Tea Temperature Minutes
Black 95°C / 205°F 3 – 5
Oolong/White 85°C / 185°F 3 – 4
Green/Yellow 80°C / 176°F 2 – 3
Herbal/Tisanes. 100°C / 212°F 5 – 15
** As always stated by My Tea Vault, we think you should enjoy tea the way you like it, I like mine very strong with no sweetener, these are just guidelines and I suggest you use the guideline then adjust for your own tastes.