Fighter – Tea Review – Teageek'ry
Tea Selection: Fighter
Company Name: Teageek'ry
Location: Nova Scotia
Teegeek'ry prides itself in handcrafted tea blends that are fresh and local. Most of the tea, herbs and spices are organic and Lacey Bain who is the owner believes in knowing what goes into your body is important. Each bath is unique and the freshest it can be delivered to you.
Read more about Teageek'ry Tea on their website: HERE
Ingredients:
Peppermint
Sencha Green Tea
Eucalyptus
Orange
Costs at the time of this writing:
Starting at $8.00 CAD / 75 Grams
Review:
There are several things I like about this company beyond the tea. First off it's organic and picked/grown locally. Second I got this really super sweet hand written note that made getting this tea extra special and personal.
Now onto the tea – Fighter. Fighter is a bulky tea and contains some amazing things that make me think this tea is all about fighting against something like a cold, sore throat, infection or just that down feeling you get when we switch from season to season.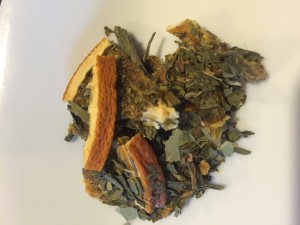 This tea had a light yellow color and a light body scent. The scent at first is a vegetal and not much of anything else, meaning that sencha green tea is taking over the scent of the other things in the tea, however the peppermint was making a presence. The exciting thing about this tea is you can clearly see some of the other ingredients within the mix of the brew. I love being able to see herbs that have been added.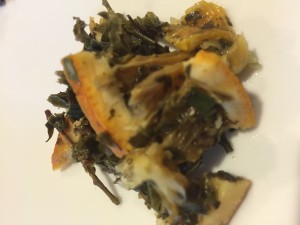 Tasting is always a different story with natural ingredients, somehow the hot water brings out different scents that you may not always smell prior to brewing. On first taste there is a great sensation on the tongue it is almost like an awakening that happens, on second taste you get the same feeling with a strong vegetal taste and something soft of familiar.. eucalyptus. It reminded me of the feeling you get when you put a cold remedy salve on your chest at night. It had coated my tongue and throat and it felt refreshing but not in a mint kind of a way.
A very nice light bodies tea that is going to do more for you then just give you a light mild tea to drink. Organic natural teas are healthy
Tea just makes you smile, doesn't it!
Till Next Tea!
LB