Grandpa's Coconut Vanilla Fancy Black Tea
Tea Selection: Grandpa's Coconut Vanilla Fancy Black Tea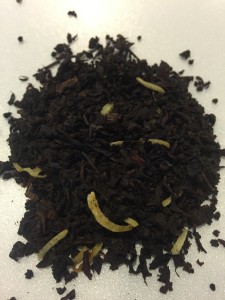 Company Name: Grandpa's Cheese Barn
Location:              Ashland (Norton), Ohio
Brand:
Founded:              1900's
Founder:               Grandpa
"I've noticed Grandpa's for the past few years, I've passed it and I've thought about stopping, last week on a recent trip to Ohio I decided to stop in. WHOA! I've been missing a lot, so I'm saying to you all, stop in, it's amazing with tons of cheese, jerkies, jams, pickles and MORE. You can sample it all and yes, they do ship.
While there I saw some teas so I picked up a couple to bring home and taste test.
Grandpa's was created in the 1900's when a single portable RCA radio was sold for the first wheel of Ohio Swiss. Soon after smoking of his own cheeses. There have been ups and downs with a few changes of hands and additions in 1978, 1991 and 2001.
You have to visit, or just check out their website, they ship and best of all, it's really very amazing!
Read more about Grandpa's Cheese Barn on their website: www.grandpascheesebarn.com
Ingredients:
Black Tea, Coconut and Vanilla Flavoring, Vanilla Bean Pieces and Coconut Pieces
Costs at the time of this writing:
2 ounces – $6.95
Review: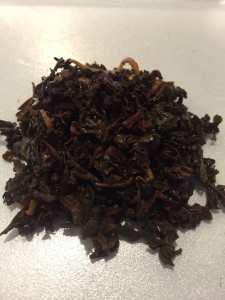 On first notice this tea is a black tea and I wonder how it can be naturally caffeine free. That may be a website error.
On first open this tea has a toasted scent, and almost a slight chocolate scent. Once you keep breathing and smelling the tea it's a very heavy vanilla flavor and a slight roasted coconut. Together with the black tea it's honestly a chocolaty scent at first sniff.
It has a sweet scent and once brewed has a medium brown body. It's a slightly bitter flavor however now the vanilla stands out with the coconut flavor.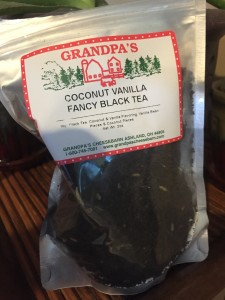 Till next Tea….