Granola Crust Breakfast Tarts – Recipe
Granola Crust Breakfast Tarts
INGREDIENTS

Granola Crust Tarts:
100g / 1½ cups rolled oats
30g / ⅓ cup mixed nuts
1 tbsp sunflower seeds
1 tbsp pumpkin seeds
1 tbsp desiccated coconut
1 tbsp coconut oil
2 tbsp honey / maple syrup / date syrup
Yogurt & Berry Topping:
250g greek yogurt
1 tbsp honey
handful of mixed berries, fresh or frozen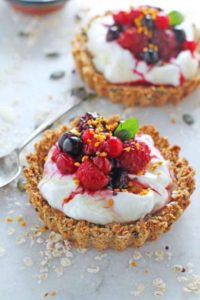 INSTRUCTIONS
Preheat the oven to 180c / 350f
Put the rolled oats, nuts, seeds and desiccated coconut into a food processor and blitz until it reaches a crumb consistency. Melt the coconut oil in the microwave, mix with the honey and then add to the food processor.
Blitz again until everything is well combined.
Lightly grease four mini tart tins. I used the ones with removable bottoms to make it easy to get them out. Divide the granola crust mixture between the four tins and using the back of a spoon press down firmly on the mixture to ensure that it all sticks together.
Bake the granola crust tarts in the oven for 8 – 10 minutes. The edges should just be starting to brown but ensure not to overcook and burn them.
Allow the tarts to cool before removing them from the tins and topping them with greek yogurt, honey and mixed berries.
Special Thanks to: My Fussy Eater for the recipe.