Greek Mastiha – Liquor Review – Ambrosia Group
Tea Selection: Greek Mastiha
Company Name: Ambrosia Group
Location: Retail: North American – Miami, Florida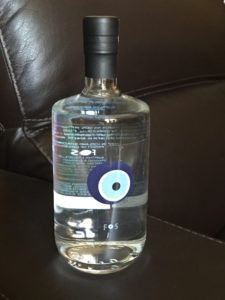 What The Ambrosia Group says about themselves (taken from online source):
We are a passionate team of well-traveled individuals, Foodies, creative chefs, and successful business people in our own respective fields. We have a very deep appreciation for food and wine, as well as fine spirits. Having lived in 3 continents & having traveled to over 100 countries around the world we have always concluded that Greece has a beautiful story to tell the world through its food, wines, and spirits.
This is how Ambrosia Group was conceived. Our strong common passion for fine taste and eternal love for Greece. We trust that our flagship brand FOS will make you discover some of the best flavors of Greece in a bottle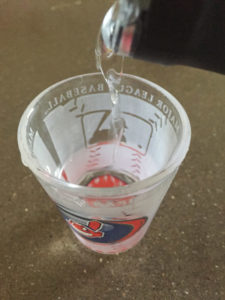 Read more about The Ambrosia Group on their website: HERE.
You are going to want to visit their site there is so much information about the beverage, the area it is cultivated as well as the land in which it is created.
What The Ambrosia Group says about their beverage:
A little history :
The island of Chios, in the Aegean Sea, is the 5th largest island in Greece.  Chios is a crescent shape island of 325 square miles. Its nickname is the mastic island. In the south of the island are the Mastichochoria, literally the Mastic villages, the seven villages of Mesta, Pyrgi, Olympi, Kalamoti, Vessa, Lithi, and Elata, which together have controlled the production of mastic gum in the area since the Roman period.
The villages, built between the 14th and 16th centuries, have a carefully designed layout with fortified gates and narrow streets to protect against the frequent raids of marauding pirates. Chios has a mild climate and a rich soil. It is precisely in one of these villages that FOS Mastiha was born, with a deeply rooted tradition of cultivation and harvesting which has been around for hundreds of years BC.
The harvesting and distillation process make Mastiha a very unique product that has a delicious, rich taste; a truly drinking delicacy with digestive benefits. In a truly mysterious way, the Mastiha tree only grows on the island of Chios. Only there do the mastic trees "cry" teardrops of resin during the harvest period.
Mastiha now enjoys the "Protected Designation of Origin" status on the island of Chios. Its stamp of approval is proudly featured on every FOS bottle, and attests to the purity of its content that we so proudly refer to as "liquid gold" or "ambrosia".
INGREDIENTS:
Mastiha liqueur is made out of 100% pure Mastiha & is NOT scented.
COSTS: $31.99
Price may vary according to the amount purchased.
MY REVIEW BEGINS
Here is what I think
Now onto this beverage. First you need to know I love Ouzo and always have. I'm a licorice fan and have had anise candy in my purse for many years (until I gave up eating useless sugars). So I was anxious to open this bottle and get to the "root" of it. (Yep that's a pun).
I opened the door to go to work and found this on my door step, well of course it was boxed up and I was trying to imagine what I ordered.
When I opened it up I was so surprised to find a sweet Ambrosia Group Liquor inside and pleasant note letting me know I was one of the first to get to sample beverage and review it.
I was thrilled, when things show up unsolicited it just makes me happy to know my reviews and comments by all of you get me that sort of status. Thank you!
So the description on the letter references it to a sweet Greek Mastiha Liqueur. It truly is a very smooth sweet liquor.
You'll have to ignore my Cleveland Indians shot glass, it was all I had at hand for this review.
I did this as  shots and later added a sweet syrup to it just to see the difference.  You're not going to mess up this drink, it's really a very versatile drink.
There is a slight aftertaste and a slight burn going down, but it's just the amazing smoothness of this greek liquor that will amaze you.
It's not overpowering at all and it's smooth feel leads way to it's smooth flavor which can be identified as herbal and the soft cucumber flavor undertone.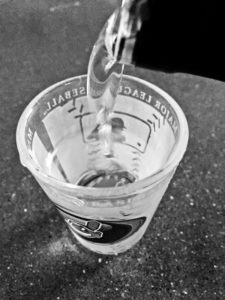 What I liked
I loved the smoothness of this liquor and the taste is really unique and different.  You are going to taste a bit of Greece when you taste it.
Make sure to watch this video on the Mastic tree, very interesting
The word for this drink has to be SMOOTH!
What I did not like
I really wish there was something, but this is a great drink with an incredible history.  You're going to enjoy it!
*_ *_ *_ *_ *_ *_ *_ *_ *_*_ *_ *_ *_ *_ *_ *_ *_
Until next sip pinkies up and face the wind! You got this!
Like us? Love us? Want a certain tea reviewed?
SEND US YOUR COMMENTS!