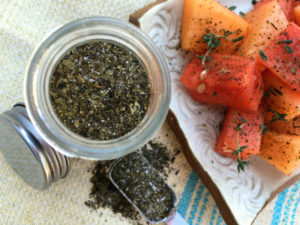 INGREDIENTS:
3 tablespoons loose leaf Teatulia Green Tea
1 tablespoon kosher salt
PREPARATION:
For a coarse salt blend, simply mix the tea and salt together until well blended. For a finer salt blend, place the tea and salt in a mortar & pestle or spice grinder and blend until you reach the desired consistency. Don't be afraid to adjust the ratio of tea to salt according to taste. Add more tea if the salt is really strong, and vice versa. Store in a sealed spice jar in a pantry away from light and moisture.
VARIATIONS:
For a black tea salt, try Teatulia Earl Grey or Teatulia Neem Nectar in place of Teatulia Green Tea.
USES:
Green Tea Salted Popcorn: Drizzle 2 tablespoons of melted coconut oil over 4 cups of popped corn. Sprinkle 1 teaspoon of green tea salt over the top. Toss and serve.
2, Green Tea Salted Melon Salad: Toss 1 cup of melon cubes or balls with ½ to 1 teaspoon of green tea salt to taste. Sprinkle with chopped fresh herbs if desired, e.g. mint, tarragon, basil, thyme, etc.
Green Tea Salt Grilled Scallops: Divide about 1 teaspoon of green tea salt among 4 large scallops, coating the top and bottom of each scallop with the salt blend. Heat a well-oiled grill or grill pan over medium-high heat. Set the seasoned scallops on the hot grill and cook undisturbed for about 2 minutes on each side. Serve the scallops hot over a bed of cold or quickly sautéed spinach, arugula, or other hearty greens.