Hatvala Vietnam Teas: Purple Rain, Two Sisters, Red Buffalo, Sweet Osmanthus
Company Name: HATVALA   part two 
Part One HERE
TEA SELECTION: PURPLE RAIN LAO CAI (GREEN)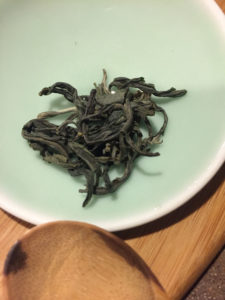 Interesting Highlights:
Sweet scent with a touch of honey, yet there is a woodsy almost scent of wilderness or mushroom or bark. This tea gets it's name from the purple tint to the leaves because of the plant and the soil combination (so cool). I was hoping it was a tribute to Prince but it still can be. 🙂
Ingredients:
Small quantity green tea production
The Scent or Aroma:
Scent of bark, earthy, wilderness and or mushrooms, slight vegetal
Review:
Green Teas can be extremely sensitive and I love the fact that if this tea is brewed sensibly you will avoid any bitterness, mine is slightly bitter. This tea is considered "wild" and you can taste it as you sip it, it's got a more wild, earthy wilderness taste to it. I love the richness of the tea and the mellowness of it's liquor. It's an earthy tea, slightly sweet and yet more of a taste like bark, tree or soil.
Cost: $3.23 / 50g pouch
Price may vary according to the amount purchased.
********************************
TEA SELECTION: TWO SISTERS SON LA (OOLONG)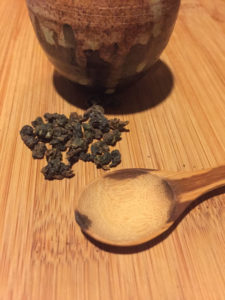 Interesting Highlights:
Soft floral notes and wait till you see the roll on these leaves. See pictures below.
Ingredients:
Gui Fei Style Oolong Tea
The Scent or Aroma:
Very soft and delicate floral notes (rose, chrysanthemums) and a sweetness as well.
Review:
A very nice and floral tea with a touch of sweetness. This tea does floral right without the over perfume scent that some floral teas can give. Soft and subtle a very Victorian feel when drinking this tea, mellow not bitter and no aftertaste.
Cost: $4.49 / 50g pouch
Price may vary according to the amount purchased.
************************************
TEA SELECTION: RED BUFFALO SON LA (OOLONG)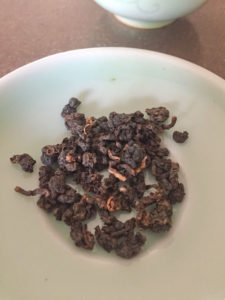 Interesting Highlights:
I hope you take the time to read about each tea, there are very unique stories of each tea and it's process from plant to production to you.
Ingredients:
A special oolong tea made to specific requirements
The Scent or Aroma:
Lovely scent and a bit malty and a slight citrus scent mixed in.
Review:
Such a mellow smooth tea with notes of sweetness and cocoa. Very mellow tea, lovely medium liquor. Once brewed this tea will show you how special it is, delicate yet full bodied and mild. Lovely afternoon cool down tea!
Cost: $3.46 / 50g pouch
Price may vary according to the amount purchased.
********************************
TEA SELECTION: SWEET OSMANTHUS YEN BAI (FLOWER TEA)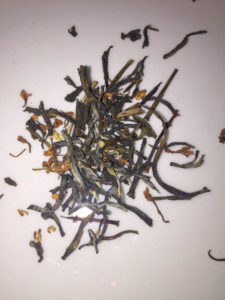 Interesting Highlights:
Very fragrant floral tea. Indeed unique and different tea is so smooth and delightful.
Ingredients:
Osmanthus flowers with Wild Green Tea
The Scent or Aroma:
A sweet scent somewhat floral
Review:
A beautiful tea with such a pleasant floral fragrance and taste with a spice note to it. What I like most about this tea is the flower Osmanthus and the fact that it is a native plant from Vietnam, something you don't get to taste everyday and if you never get to travel to Vietnam you just got to experience a small part of it through this tea.
Cost: $6.06 / 50g pouch
Price may vary according to the amount purchased.
~~~~~~~~~~~~~~~~~~~~~~~~~~~~~~~~~~~~~~~~~~~~~~~~~~
Company highlights, notes and more:
I had to include these images, they are lovely! Look at that woman's smile. Precious!
Tea has been known in Vietnam for many years but it is only relatively recent that tea has been grown and produced in any quantity. However, the growth in tea production has been impressive and the country now ranks 5th or 6th in the world for tea production.
In Vietnam, tea production has had a stuttering history badly disrupted by war and conflict. Since the 1980's production has increased dramatically and yet, despite this, Vietnam is not well known for its teas and most is destined to find itself in blends rather than being branded as Vietnamese tea. Part of the reason for this is that looking at the industry as a whole the quality of the tea produced is average at best. However, hidden among the this rough there are bound to be some diamonds and this is what we have been searching for and discovered at Hatvala.
Our philosophy at Hatvala has been to spend many years travelling around the tea growing areas of Vietnam to research and discover teas that stand out due to character, aroma and taste.  This can take a lot of time but in the process we have visited some of the most stunning countryside in the country.  Although the quality of tea is paramount we also ensure that it is produced with care, is free from chemicals and is ethically produced.  Many of the teas are produced from wild tea trees that have grown for centuries on the cool mountain slopes of northern Vietnam close to the Chinese border.
Our premium range of teas comprise excellent examples of the different types of tea available including green tea, black tea, oolong tea, white tea as well as flavoured varieties.  We sell teas in retail packs or in bulk depending on customer requirements and can deliver both within Vietnam or overseas.
At moment we do not sell on-line so please go to our Contact page for details.
Read more and visit the website: CLICK HERE. http://hatvala.com/hatvalacoffe/
******************************************************************
I hope you all are enjoying and sharing our tea reviews. I love our tea loving community and as tea continues to grow and flourish so will our reviews. I plan on keeping us all informed on what is going on, what is new, what is bad and simply what is.
Please take a moment to sign up for our newsletter and follow us on Facebook, Twitter and Instagram. So much more to share and the newsletter gives us discounts, giveaways and tea company's inspirations. Don't be left out of our community.
Below I have included an instructional brewing chart to help you brew your teas.
Like us? Love us? Want a certain tea reviewed?
SEND US YOUR COMMENTS!
(So serious, write to me and tell me what you are thinking, I honestly want to hear from everyone!)
Don't forget to follow me and make sure you say Hello!
https://twitter.com/MyTeaVault
https://www.facebook.com/MyTeaVault/
https://www.instagram.com/myteavault/
******************************************************************
AVERAGE BREWING INSTRUCTIONS:
These are common instructions for brewing teas, however if the company suggests other brewing I will include it in the review section.
Time and Temperature Guide:
Tea      Temperature Minutes
Black      95°C / 205°F 3 – 5
Oolong/White 85°C / 185°F 3 – 4
Green/Yellow 80°C / 176°F 2 – 3
Herbal/Tisanes.         100°C / 212°F 5 – 15
** As always stated by My Tea Vault, we think you should enjoy tea the way you like it, I like mine very strong with no sweetener, these are just guidelines and I suggest you use the guideline then adjust for your own tastes.