HELLO ICED TEA TEST – STORY OF MY TEA –
Company Name: STORY OF MY TEA – HELLO ICED TEA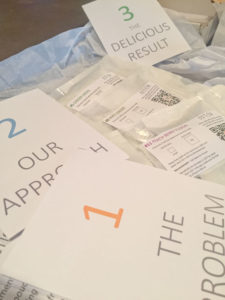 TEA SELECTION: GINGER GREEN, MATE GINGER AND PEACH BERRY FUSION
I've got a secret:
Story of My Tea honored me to review and test a new product. Already in love with the company and what they are bringing to the Tea Industry and Consumer I was all in.
It was an Iced Tea Taste Testing so I set up some mason jars, followed the instructions and got ready to review the teas, where was the test, a questioner set up through (you guessed it) the Q Code on the front of the package.
Story of my Tea is in love with the Q coding and uses it to share more information with us about the teas we receive, so I was not surprised when the test questions were found and easily submitted through the Q Code. Easy and Completed and now I get to share it with you!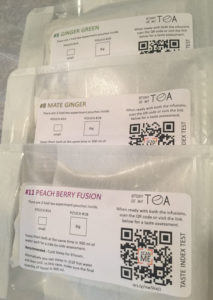 I do have a favorite you will have to read on to find out which one I liked the best.
A few years ago I was an iced tea fanatic, I drank A LOT of iced tea, in fact that is pretty much all I drank. I iced all my teas and was happy there, then one day, one tea set my course towards hot teas, Tea trays, tea infusers and more. Oh I was hooked. I'd drank hot tea off and on but for many years to follow it was all about a nice cup of hot tea, until a few days ago when Story of My Tea sent me these three teas to test for them (I also received a few more but that review is for a later date).
Here's the set up: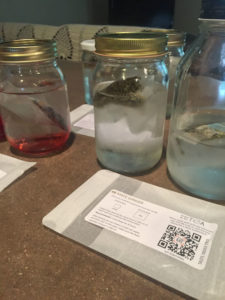 Each tea had two tests to be completed. I'm not going to give away their testing requirements but just know it was a side-by-side testing of each tea.
Now onto the teas, first these teas are spot on as Iced Teas and refreshing.
GINGER GREEN – Very smooth and mellow tea, actually they all were that way, this tea really has a nice light flavor with a perfect balance as an iced tea. It's mellowness but not overwhelming flavor just makes it even more exciting to share. I don't know of an Iced Tea out there in this flavor.   This tea also has an amazing body it's full and the leaves are exactly that leaves not dust. I'm impressed with the first test and even with the ginger this tea does not have a strong bite to it like most ginger teas. The combination of ginger and green tea is remarkably blended and smooth.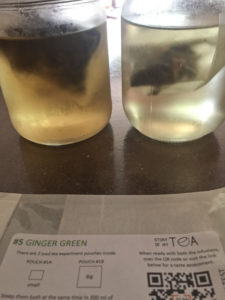 MATE GINGER – Did I mention that these teas are unsweetened? They are the quality of leaf is full and no dust. I love that. I also love the ginger flavor in this tea. I also love that these teas are a perfect mix of ingredients that brew to a perfect mellow not overpowering or artificial iced tea. Great quality teas and iced tea brew. The ginger in this tea stands out a bit more then the Ginger Green, but it's not overpowering, it's just perfect.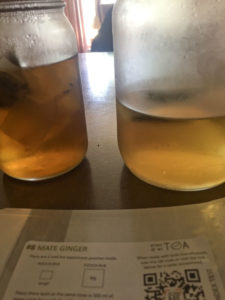 PEACH BERRY FUSION – A fun iced tea with a berry flavor that stand out and makes you want more. This tea is full of surprises with a nice flavor and a fruity citrus flavor. The name Fusion is accurate as it's a great fusion of some nice familiar flavors. The berry stands out but you can taste the peach notes. It's fun to add ice to this tea with it's lovely reddish brew that looks fantastic in your glass.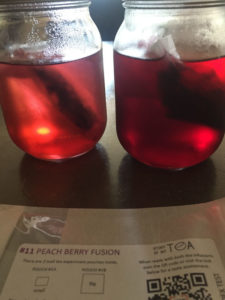 My favorite? For me it's the Mate Ginger, just something very nice about it that pushed it to the top for me. I've never been much of a ginger fan but lately I've fallen in love with it. Plus it's good for you so that's a plus 2 for me.
Oh and remember those whole leaves and ingredients, here are the pictures:
********************************
Company highlights, notes and more:
Think of us as a practical hands on tea discovering experience.. we brought the knowledge of teas and the hands on tea tasting experience together without the boredom of lessons and long text or the expenses of world travel.
We believe tea is art and that every tea has its own story- A story of its origin, history, heritage and people; A story that inspires open-minded exploration; A story that makes the tea a little more personal than its taste and smell.
We came up with the idea of Story of My Tea when, out of our curiosity for tea, our goal is to help you:
Experience the best of tea from around the world
Discover the beauty, cultures and diversity of tea
Keep track of your tea exploration
Read more and visit the website: CLICK HERE. and HERE for the Thunderclap support
******************************************************************
I hope you all are enjoying and sharing our tea reviews. I love our tea loving community and as tea continues to grow and flourish so will our reviews. I plan on keeping us all informed on what is going on, what is new, what is bad and simply what is.
Please take a moment to sign up for our newsletter and follow us on Facebook, Twitter and Instagram. So much more to share and the newsletter gives us discounts, giveaways and tea company's inspirations. Don't be left out of our community.
Below I have included an instructional brewing chart to help you brew your teas.
Like us? Love us? Want a certain tea reviewed?
SEND US YOUR COMMENTS!
(So serious, write to me and tell me what you are thinking, I honestly want to hear from everyone!)
Don't forget to follow me and make sure you say Hello!
******************************************************************
AVERAGE BREWING INSTRUCTIONS:
These are common instructions for brewing teas, however if the company suggests other brewing I will include it in the review section.
Time and Temperature Guide:
Tea      Temperature Minutes
Black      95°C / 205°F 3 – 5
Oolong/White 85°C / 185°F 3 – 4
Green/Yellow 80°C / 176°F 2 – 3
Herbal/Tisanes.         100°C / 212°F 5 – 15
** As always stated by My Tea Vault, we think you should enjoy tea the way you like it, I like mine very strong with no sweetener, these are just guidelines and I suggest you use the guideline then adjust for your own tastes.