Here's a review of Teakruthi Teas
Company Name: Teakruthi
When I receive the package from Teakruthi I was thrilled to find some amazing teas as well as a pamphlet with each tea talking specifically about the tea, the origins, the company and the people who created Teakruthi. I find this extremely refreshing that a company would share with you (not just on a website) but with your order the origins of the tea you are drinking, giving you knowledge about the tea as well as the company and nation the tea came from. I find this very impressive. Well done Teakruthi, well done!
TEA SELECTION: CELYON IVORY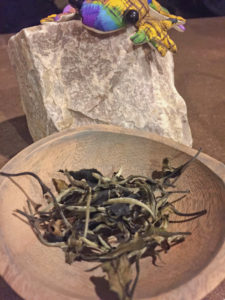 Interesting Highlights:
This is a whole leaf tea I loved pulling out pieces of stem with leaves on it.
Ingredients:
Pure Ceylon White tea
The Scent or Aroma:
When you first smell this tea it has a very slight vegetal scent but when you brew the scent always changes and surprises me.
Review:
I enjoy preparing a whole leaf tea there is something very special about the whole leaf and stem included. This picked products was processed very minimally and provides you with the most unadulterated experience. Once that smelled like a vegetal garden once brewed gives way to a lovely sweet flavor and the lasting finish of a green meadow. Very smooth and a light liquor.
Cost: $72.50 / 30 cups
Price may vary according to the amount purchased.
********************************
TEA SELECTION: AFTERNOON RITUAL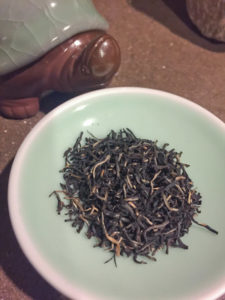 Interesting Highlights:
Prior to brew this tea has a musk and grainy scent to it, this tea leaf is small but it's not dust and very impressed with the way it brewed.
Ingredients:
Black tea from low plantation
The Scent or Aroma:
After it's first scent once brewed this leaf really lets loose with the flavor. The flavor opens up to a mild yet delightful tea with sweet slight citrus notes followed by a bit of bitter chocolate.
Review:
Reminiscent of a pekoe tea and it's citrus finish this tea offers a medium liquor that packs an amazing flavor. Not as strong as it looks this tea is a mellow yet sweet with that citrus finish that offers a sweet chocolate citrus flavor. It's a delightful tea for morning wake up or brunch.
Cost: $25.00 / 30 cups
Price may vary according to the amount purchased.
********************************
TEA SELECTION: CEYLON GOLD
Interesting Highlights:
First scent prior to brew is almost lacking, there is not much of a scent and that is okay because once brewed the flavor of this tea really comes through and it will surprise you.
Ingredients:
Gold Tip White Tea from Sri Lanka
The Scent or Aroma:
Once brewed this medium liquor brew is light and mild with a very very slight grass scent.
Review:
Such a sweet essence of floral and greenery. This is a very mild tea comprised of some amazing flavors and a soft finish. Very light and the tea is comprised of nice sized buds, brewed a couple time and this tea is still amazing each brew becoming more and more subtle and surprising. I really enjoyed discovering this tea.
Cost: $55.00 / 30 cups
Price may vary according to the amount purchased.
********************************
TEA SELECTION: ROYAL MIDLANDS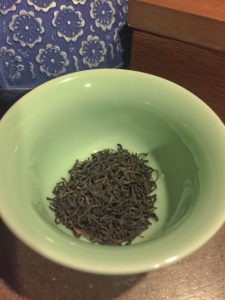 Interesting Highlights:
Interesting to note this tea had no scent out of the bag, maybe a little musty scent but that is it, very light.
Ingredients:
Black tea from the plantations in Kandy
The Scent or Aroma:
Out of the bag, no scent which I always enjoy because there is always a surprise once brewed as with this tea. Very light woodsy note.
Review:
This tea is slightly richer then the Afternoon Ritual mentioned above, this tea again follows that same like of a Pekoe tea with a slight tart yet Citrus flavor. The liquor is a darker rich brew and it always surprises me that a dark brew does not necessarily mean a strong tea, as in this case it's a lighter smooth tea with a fresh malty, woodsy flavor.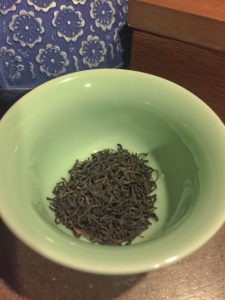 Cost: $20.00 / 30 cups
Price may vary according to the amount purchased.
********************************
Company highlights, notes and more:
Originating from Ceylon, home to the world's finest tea, we are Teakruthi and hope to inspire a healthier lifestyle through the perfect 'cup-a-tea'. Tea is in our culture and we know that perfection begins at the source. Our teas are thus hand plucked and ethically sourced from the world's finest plantations in Sri Lanka (formerly Ceylon), arriving at your doorstep garden fresh. Our teas have no artificial or GMO's (Genetically Modified Organisms).
Teakruthi serves only the finest of pure Ceylon tea hand plucked and sourced from select plantations in Sri Lanka's high-, mid- and low-grown regions. Their complex flavors and aromas are delicately balanced by our experienced Tea Sommeliers to create a range of uniquely distinctive flavors. We process our teas in a climate-controlled facility and ship them to you vacuum packed in an aluminum pouch, protecting it from sunlight. Your tea thus arrives fresh with its true flavor and aromas intact. Brew a cup of teakruthi and enjoy a uniquely sublime olfactory experience.
Read more or visit their website: CLICK HERE.
******************************************************************
I hope you all are enjoying and sharing our tea reviews. I love our tea loving community and as tea continues to grow and flourish so will our reviews. I plan on keeping us all informed on what is going on, what is new, what is bad and simply what is.
Please take a moment to sign up for our newsletter and follow us on
So much more to share and the newsletter gives us discounts, giveaways and tea companies inspirations. Don't be left out of our community.
 I've included an average brewing instruction chart below to help you brew your teas.
Like us? Love us? Want a certain tea reviewed?
SEND US YOUR COMMENTS! (I am so serious, write to me and tell me what you are thinking, I honestly want to hear from everyone!)
********************************AVERAGE BREWING INSTRUCTIONS:
These are common instructions for brewing teas, however if the company suggests other brewing I will include it in the review section.
Time and Temperature Guide:
Tea      Temperature Minutes
Black      95°C / 205°F 3 – 5
Oolong/White 85°C / 185°F 3 – 4
Green/Yellow 80°C / 176°F 2 – 3
Herbal/Tisanes.         100°C / 212°F 5 – 15
** As always stated by My Tea Vault, we think you should enjoy tea the way you like it, I like mine very strong with no sweetener, these are just guidelines and I suggest you use the guideline then adjust for your own tastes.