Here's the Tea Review of Hunters Tea Company
Company Name: Hunters Tea Company
So thankful for tea companies that include some extra things to review.  Hunters Tea Company sent along some sugar, honey and a beautiful T-spoon.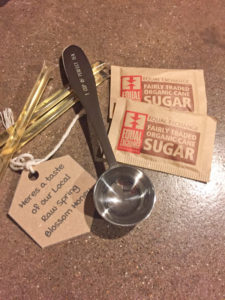 The tea spoon came in very handy and it is very simple to use.  What a great way to scoop some tea out of a bag and simple put it into your tea set or tea bag.  No waste.  The sugar is super great because it's "fairly traded organic cane sugar"  there is nothing better then using a fine organic product in your teas.  You care enough to buy some amazing teas you should only sweeten with the best.  The honey..  Raw Spring Blossom was amazing and really added to the flavor of the teas, make sure you add these to your order when you order from Hunters Tea.
Now onto the tea reviews:
TEA SELECTION: ORGANIC NILGIRI BLACK TEA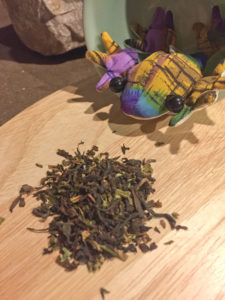 Interesting Highlights:
Such a smooth tea with a slight familiar lightness to it's taste.
Ingredients:
Organic Single Estate Nilgiri Black Tea
The Scent or Aroma:
Very faint scent of a grassy scent or wet hay
Review:
This tea is a medium to light brew with a familiar light fragrance that is vegetal and a flavor of wet hay or a grassy vegetal flavor. This tea is very smooth, I love a smooth tea and am always very impressed with a single origin tea's origin and amazing flavor. You have to read the story about this tea and it's origins, how old it is and the cost of it when it was first renowned. You are drinking quality, a gem of a tea.
Cost: $19.90 / 4 ounces
Price may vary according to the amount purchased.
********************************
TEA SELECTION: ORGANIC EGGNOG WHITE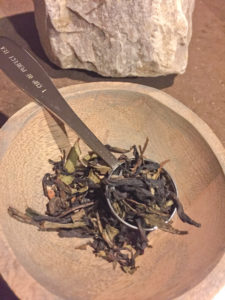 Interesting Highlights:
I have no idea what egg nog tastes like, but I always see it in the store, I feel I'd be much happier drinking this tea then anything found in the refrigerator section of the store. That being said this tea is really very nice, reminds me of a chai tea but with the White tea and Oolong tea added really makes it such a beneficial addition to this tea.
Ingredients:
Organic Pai Mu Tan White Tea, Organic Oolong Tea, Organic Nutmeg, Organic Cinnamon, Natural Vanilla Flavor.
The Scent or Aroma:
This tea really gives off a spicy aroma and reminds you of a cinnamon spice.
Review:
What I enjoyed most about this tea is that when you drink it your entire mouth and sinus are filled with the aroma and it really opens everything up. Cinnamon and Vanilla are your major flavors followed by a bit of a fruity finish. It's again a smooth tea and I really enjoyed it. I still believe it's far better then any "eggnog" in a carton!
Cost: $19.59 / 3.5 ounces
Price may vary according to the amount purchased.
********************************
TEA SELECTION: ORGANIC CHINESE GUNPOWDER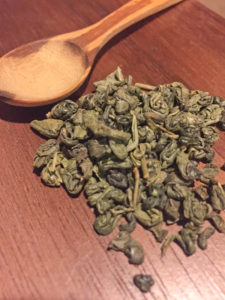 Interesting Highlights:
I use the description often of a meadow or pasture and according to the flavor wheel that is not a choice, however I still stand by the fact this tea as well as a few others scent remind me of a fresh open field, it's light aroma is like the wind blowing across the grass. It's a beautiful tea and flavor.
Ingredients:
Organic Green Tea
The Scent or Aroma:
The scent is light, sometimes you have to really search for a true green tea scent it's fresh and clean, reminds me of the wind blowing across the open field, grassy yet mixed with a bit of earthy.
Review:
This tea is really very nice, it's smooth and lightly vegetal and with a slight vegetal finish. It's a clean tea with a light liquor and makes you feel refreshed after drinking.
Cost: $18.95 / 4 ounces
Price may vary according to the amount purchased.
********************************
TEA SELECTION: ORGANIC WINTERBERRY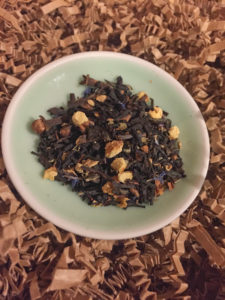 Interesting Highlights:
When I saw the list of ingredients I was ready to be overtaken by a strong sour bitter citrus flavor. Not at all, this tea is really a very gentle mixture of the ingredients listed and it will surprise you and make you smile. It sure did when I drank it.
Ingredients:
Organic Blackberry Tea, Organic Black Current Tea, Organic Rooibos Tea with Red raspberry Flavor, Organic Cinnamon, Organic Ginger, Organic Clove, Organic Orange Peel
The Scent or Aroma:
Berry scent right off the bat with a slight citrus to it. Once brewed this tea is smooth, sweet and very berry.
Review:
There are some nice pieces in this tea, right off you will pieces of fruit as well as whole clove. I feel the more you brew this tea the stronger it will get. It's a sweet flavor with a berry taste, no aftertaste. A very well done mixture of tea that should not be judged by it's ingredients and needs to be tasted.
Cost: $15.99 / 4 ounces
Price may vary according to the amount purchased.
********************************
TEA SELECTION: ORGANIC FINE CHINA JASMINE TEA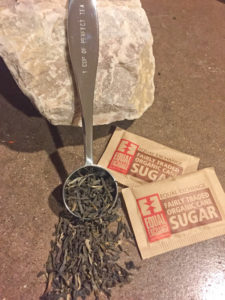 Interesting Highlights:
A beautiful tea laid in the sun and mixed with the jasmine blossom, just sounds beautiful and it is. The essence of the jasmine really changes the green tea a lovely medley of green tea and floral beauty.
Ingredients:
Organic Green Tea and Organic Jasmine Blossoms
The Scent or Aroma:
At first scent this is a vegetal tea however once brewed this tea turns into a masterpiece as described above.
Review:
It always amazes me how a tea with such a light brew can pack such a strong taste and this tea is one of those. It's a light liquor yet the tea itself is strong, not overpowering but strong in the sense you can taste it and feel it. It's a smooth medium bodied tea that will captivate your senses.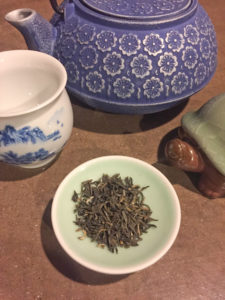 Cost: $21.95 / 4 ounces
Price may vary according to the amount purchased.
********************************
Company highlights, notes and more:
Our focus is finding, loving, and sourcing delicious, single farm, organic loose leaf tea. Our selection of tea is curated, allowing what tea we do offer to exceed our own quality, taste, and tea love expectations. Any one of our hand picked teas will steep a wonderful cup of hot or iced tea.
Read more or visit their website: CLICK HERE:
******************************************************************
I hope you all are enjoying and sharing our tea reviews. I love our tea loving community and as tea continues to grow and flourish so will our reviews. I plan on keeping us all informed on what is going on, what is new, what is bad and simply what is.
Please take a moment to sign up for our newsletter and follow us on
So much more to share and the newsletter gives us discounts, giveaways and tea companies inspirations. Don't be left out of our community.
I've included an average brewing instruction chart below to help you brew your teas.
Like us? Love us? Want a certain tea reviewed?
SEND US YOUR COMMENTS! (I am so serious, write to me and tell me what you are thinking, I honestly want to hear from everyone!)
********************************* AVERAGE BREWING INSTRUCTIONS:
These are common instructions for brewing teas, however if the company suggests other brewing I will include it in the review section.
Time and Temperature Guide:
Tea      Temperature Minutes
Black      95°C / 205°F 3 – 5
Oolong/White 85°C / 185°F 3 – 4
Green/Yellow 80°C / 176°F 2 – 3
Herbal/Tisanes.         100°C / 212°F 5 – 15
** As always stated by My Tea Vault, we think you should enjoy tea the way you like it, I like mine very strong with no sweetener, these are just guidelines and I suggest you use the guideline then adjust for your own tastes.