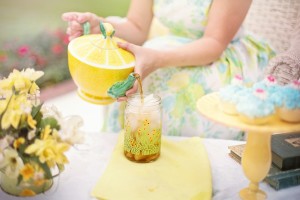 Who does not like the idea of a tea party?  It's refreshing, comforting and beautiful.  Here are some tea party ideas.  Comment with your own ideas as well.
A ladies tea party, is a great way to spend time with one friend or many. Having a cozy tea for two, baby shower, bridal shower or a Victorian tea party? We will walk you through the steps you need to have a successful tea that everyone will enjoy and remember.
The joy of a ladies tea party, no matter what the theme, is that you can sit down with your guests and enjoy the event also. All preparations are done in advance, so there is no need for you to spend half your time in the kitchen. The only thing you may need to 'do' is make another pot of tea!
The idea of a Tea Party dates back to the Victorian Era when a lady of fashion, Catherine of Braganza, who introduced tea to England, and Anna, the 7th Duchess of Bedford, who ordered tea and cakes to be brought up for her since she would be having dinner later in the evening. It is supposed Anna suffered from low blood sugar and needed something to 'pep' her up in the long hours between their noon meal and the then fashionable 'late dinners'.
Nowadays, you can serve almost anything you like at a ladies tea party, as long as it is easy to eat without a knife, and generally without a fork. (although not always, a high tea, which is different from an afternoon tea, will need silverware) Doing so makes it easy for your guests to mingle around the room and not be too dependent on a table to eat from.
Any occasion is a great reason to have a tea party, let alone a special occasion! Take a look at all the ideas below for all your events from a large formal affair to a small cozy tea for two.
A tea party is very easy to adapt to any occasion or event, because the tea party part remains the same, but the theme or event will obviously change what you plan to do at your party. You wouldn't plan to have games at your book club meeting, no more than have a discussion about the Jane Austen novel you are reading in your book club, at your baby shower. Now ~ If it's a baby shower for one of your book club members, that of course is another story!
Check with the guest of honor, adults especially, (if it's not you), and make sure they want to do crafts, games… Some people really dislike one thing or another. Since the party is meant to be enjoyed especially by the person in whose honor it is given, you want to make sure she will enjoy everything you are planning.