Intermittent Fasting and Traveling with Probiotics
Last month I made my first trip since transforming my health and my life.  I was now one of the many that chose Intermittent Fasting as a way of life as well as daily probiotics and green juice consumption.
HOW was I going to travel in a plane and still maintain the life that I had just created for myself.
I love to travel and generally one of my first stops after the TSA security was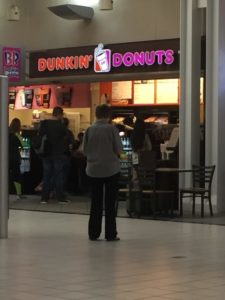 That's right, Dunkin Donuts and it would not just be one donut, it would be a couple and for sure those really awesome powdered sugary ones with creme filling.  Yes, there I would be, standing in line awaiting my flight.
This trip would be different for numerous reasons the easiest of which was I would not be eating until I was in San Antonio and in my hotel room some 5 hours later, that was the easy part.  I say that because my body was already used to waking up and having a green juice then preparing my breakfast (break fast) around noon.  I'm no longer enticed by sugar, that was easy.
My biggest thoughts prior to the trip was HOW am I going to get my green drink and probiotics to San Antonio with me?
I thought about purchasing them there, here were several health food stores but upon returning home I would still be n the same place.  HOW do I get them home?
I started to do some research and found that putting my drink or probiotics into my stored luggage would be a failure since the cabins are not pressurized and sometimes get very hot.  So that was out.
After more research I found that you can purchase a dark colored glass bottle, put your pills in it (because they are supposed to remain refrigerated) wrap the container in foil, place in a waterproof container, I used a nylon lunch bag, put a leak proof ice pack and added my jar of green juice powder and offI went.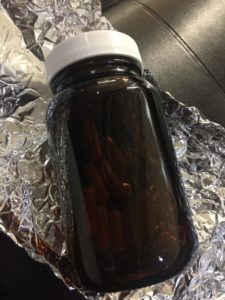 NOW would TSA approve or not?  I read they would but I was prepared for the TSA denial.
Standing in line, filling up my bins and headed through the X-ray, I can hear someone say: "she's got her ticket in here and she's got an alert"  Yep, I did not even have to turn around i knew it was me.  I went to gather my items and sure enough , the bag containing my ice pack was being held in the arms of the TSA.
CRAP!  She looks at me and asks if the bag she is holding is mine, and i reply Yes, she asked me to come with her.
She asked me what was in the bag, I told her and she asked me to show her the pills and open the juice powder container as well.  The TSA lady was so nice and explained it was perfectly fine to take container n the manner I did and to expect to have to show TSA.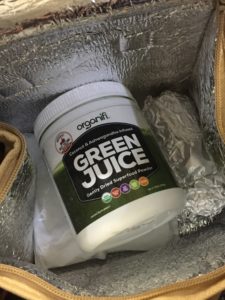 Not a problem.  I showered her the containers and what was inside them packed them back up and I was on my way.
Easy and done, she made it easy as well, great TSA agent!
So now that I know how to travel with refreigerated items I wanted to make sure you knew as well…
SaveSave
SaveSave
SaveSave