It's TIME! Time for a Giveaway.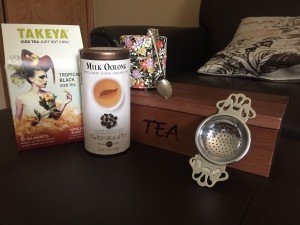 This Giveaway can be won by doing two things:
Sign up for our email list on the website:                                 HERE
AND
Retweet this on your twitter account AFTER liking me of course:                                                                                                     HERE with the hashtag #MyTeaVaultLovesTea
It's that simple, It's a fun giveaway and I'm excited to offer some fun products:
A Wooden Tea Box
Republic of Tea Milk Oolong
Strainer
Tea Spoon
Takeya Tropical Black Ice Tea
Beautiful Floral Tea Tin
Unfortunately for this giveaway, it can only be mailed to a US address.
So, what are you waiting for?
Sign up!
HERE!
and get to tweeting.
Questions/Comments, I'm always around to answer them. Ask Away.