Ka Ka O | Chocolate With Tea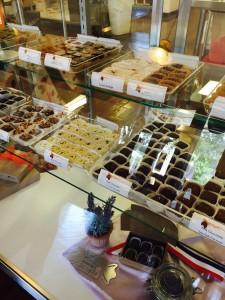 This is no ordinary chocolate place, it's as special as it's name. I looked around on the website for a history of the name but did not find it. Next time I visit I'll make sure to find out.
They have so much and it's all amazing, they have teamed up with the Tea Traveler down the street and make chocolates with tea, they are amazing, along with a lavender truffle. Ohhh and marshmellows in so many different flavors that are incredible.
It's a fun store to visit and even more fun to taste test, they always have a sample or two or more. Make sure to visit Ka-ka-o as soon as you can, it's located in Maplewood Missouri!  YUM!