King's Earl Garden | Tranquilo Teas
Tea Selection: King Earl's Garden
Company Name: Tranquilo Tea
Location: Edmonton, AB
Founded: no information listed
Founder: no information listed
Tea Company Comments taken from their webpage: 
Our mission is to supply our customers with the best teas, while giving a portion of proceeds back to local and global causes we believe in. We only source our teas from companies who have a history of ensuring ethical treatment of all employees on the tea estates and do not use child labor.
Our guarantee to you……..
NO preservatives, NO added sugars, and NO artificial colors!!
Personally:
The one thing I like about Tranquilo's packaging is all the information they give you about the tea, the caffeine levels, Antioxidant level and steeping guide.
.
Read more about Tranquilo Teas on their website: Tranquilo Teas.
INGREDIENTS:
Black Tea
Green Tea
Cornflower and Jasmine petals
Natural flavors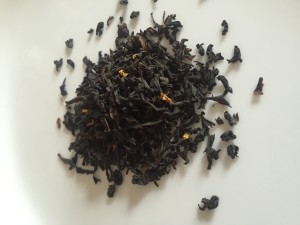 COSTS: 5.99 CAD / 2 ounces -varies according to what you purchase.
REVIEW: This testers most favorite tea! Earl Grey. This tea is no exception however to get a higher rating an earl grey has to be fabulous because I've tasted so many. There is a slight Vegital scent and once I saw it contained a green tea that made all the sense to me.   There is a just a mild earl grey to me and it was a slightly bitter tea that will wake up with some honey in it I am sure.   It's not a strong citrus taste like a traditional Earl Grey and with the addition of the Green tea it ads some more antioxidants to it.
Prior to brew:
Brewed: Mild Amber color
Scent: Mild Earl Grey
Flavor: Slight bitter / vegital
Sentiments: I like the idea of the added green tea, but it does lose the Earl Grey taste when the green is there.
My Tea Vault score values of 1-10 (10 being the best): "7"
Till next Tea….