Living Leaf Tea – Mei White Tea and Zing Xin Varietal
Company Name: LIVING LEAF TEA
TEA SELECTION: GONG MEI WHITE TEA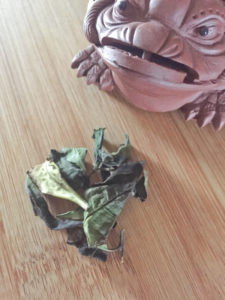 Interesting Highlights:
You really have to love the size of the leaf. Wow! The leaf gives a sweet scent with a tobacco body.
Ingredients:
Single origin organic white tea
"The spring version of our most natural, minimally processed tea – Organic, handmade, sun-dried Gong Mei White Tea. Delicate, light and sweet with a relaxing but stimulating energy."-
Review:
I love the scent of this tea, it's very alive! This Gong Mei White Tea has a floral and sweet scent. It's flavor is light and airy, not heavy and not complicated.
The taste is very mellow not vegetal or bitter, smoothly flows as you drink it (you will want more). I steeped this three times with amazing results. Each steeping was a bit longer but it lost nothing in taste. For me I needed more leaf then I usually would use to get to my desired taste (this will vary between people) and I believe because of the leaf and the fact that a white tea has less processing then most teas.
I love that these teas are organic, it's important to those that want to live a complete organic life.
Cost: $14.95 / 30 grams
Price may vary according to the amount purchased.
********************************
TEA SELECTION: QING XIN VARIETAL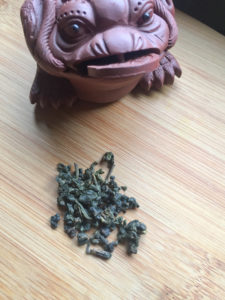 Interesting Highlights:
Tightly rolled balls of heaven. Imagine as they unfold and unravel in the hot water and fill your cup with a delicious beverage we call tea.
Ingredients:
Organic Oolong Tea
"Taiwanese Qing Xin trees, planted in nutrient rich, organic Yunnan soil at 2300m elevation. Lightly floral and subtly sweet with undertones of creamy marzipan."
Review:
I smelled the aroma of this tea brewer from an arms length away, I was in awe. Quin Xin is an interesting tea with notes of honey and roasted nuts that leaves a lovely aftertaste to keep you interested. It's delightful fragrance and taste make this a lovely dessert tea, as I sit here I can only imagine a shortbread cookie (I wish I had a shortbread cookie) in one hand as I sip this tea in the other.
I'd have to say this tea is a medium bodied tea with a strong presence but not overpowering. It's still mellow and it let's you know it's roasted and prevalent.
Cost: $4.00 / 10 grams
Price may vary according to the amount purchased.
~~~~~~~~~~~~~~~~~~~~~~~~~~~~~~~~~~~~~~~~~~~~~~~~~~~~~~~~~~~~
SPECIAL NOTE:
I appreciate these two teas as well as Living Leaf Tea Company for allowing me to sample their teas and share it with you. Organic is where it's at and so thankful for their line of products, Living Leaf will tell you they are a new company but I believe they will be around for some time delighting us with a strong line of Chinese teas.
Take a moment to check out their sampler of teas HERE
~~~~~~~~~~~~~~~~~~~~~~~~~~~~~~~~~~~~~~~~~~~~~~~~~~~~~~~~~~~~~
Company highlights, notes and more:
Our plantation lies at 2300m in elevation, in very Southwestern corner of China – closer to Myanmar than any major city.
The wind blows in cool and crisp from the Himalayas, the land is irrigated with fresh mountain spring water and the entire area is isolated and clean.
The plantation sits on top of a mountain, meaning there are no farms nearby and the soil is nutrient rich – it has never been farmed before.
Our tea trees thrive among other plants, trees, insects and animals, including apple, pear and walnut trees. There is a lake on the property, with ducks and other birds. You will see the occasional praying mantis lurking in the tea trees, and the birds sing over head while the tea is being picked.
There are no chemicals used here. The local environment lives in harmony as it always has. If a tree is too weak to survive, we will let it die – preferring to allow the weak trees to make space for the strong trees, rather than prop them up with environmentally harmful chemical assistance.
We believe clean, healthy trees make clean, healthy tea – and the proof is in the cup.
Read more and visit the website: CLICK HERE.
******************************************************************
I hope you all are enjoying and sharing our tea reviews. I love our tea loving community and as tea continues to grow and flourish so will our reviews. I plan on keeping us all informed on what is going on, what is new, what is bad and simply what is.
Please take a moment to sign up for our newsletter and follow us on Facebook, Twitter and Instagram. So much more to share and the newsletter gives us discounts, giveaways and tea company's inspirations. Don't be left out of our community.
Below I have included an instructional brewing chart to help you brew your teas.
Like us? Love us? Want a certain tea reviewed?
SEND US YOUR COMMENTS!
(So serious, write to me and tell me what you are thinking, I honestly want to hear from everyone!)
Don't forget to follow me and make sure you say Hello!
******************************************************************
AVERAGE BREWING INSTRUCTIONS:
These are common instructions for brewing teas, however if the company suggests other brewing I will include it in the review section.
Time and Temperature Guide:
Tea      Temperature Minutes
Black      95°C / 205°F 3 – 5
Oolong/White 85°C / 185°F 3 – 4
Green/Yellow 80°C / 176°F 2 – 3
Herbal/Tisanes.         100°C / 212°F 5 – 15
** As always stated by My Tea Vault, we think you should enjoy tea the way you like it, I like mine very strong with no sweetener, these are just guidelines and I suggest you use the guideline then adjust for your own tastes.L