Lovely Rishi Teas -You're Gonna Wanna
Company Name: RISHI TEA
TEA SELECTION: DANDELION DETOX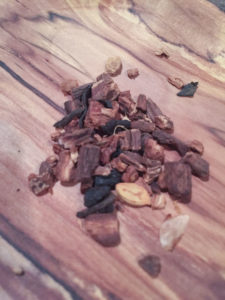 Interesting Highlights:
It's a detox tea that's not full of fluff, but a genuine (you can taste it) detox tea
Ingredients:
Organic roasted dandelion root
Organic lemon peel
Organic puerh tea
Organic oolong tea
Organic cinnamon
Organic ginger root
Organic schizandra berries
Essential geranium oil.
Review:
To just make sure this tea is not medicinal tasting however, it's not a sweet dandelion tea. Did you see those ingredients? This is a powerful drink with many benefits and no fluffy fillers. I'm impressed.
The scent of this has a bit of a spice to it. The tea is smooth with an earthy straw taste. It begins a slight bit sour and end on a sweet note. Not a fake over powering sweet but just a lovely medley of ingredients.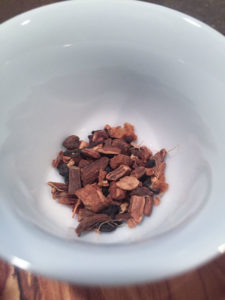 Cost: $19.00 / 16 cups
Price may vary according to the amount purchased.
~~~~~~~~~~~~~~~~~~~~~~~~~~~~~~~~~~~~~~~~~~~~~~~~~~~~~~~~~~~~
TEA SELECTION: TURMERIC MANGO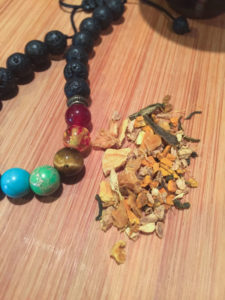 Interesting Highlights:
Tropical, I can see this on ice or just warmed up as a morning wake me up drink.
Ingredients:
Organic mango
Organic turmeric root
Organic pineapple
Organic ginger root
Organic green tea with jasmine
Organic yuzu peel
Natural mango flavor
Essential kaffir lime oil.
Review:
I love that these teas have no artificial flavors or "natural" flavors, that's a BIG DEAL! Tropical scent and flavor, slightly sour yet smooth with a lovely yellow liquor. Fruity with sweet notes that follow this amazing tea sip after sip.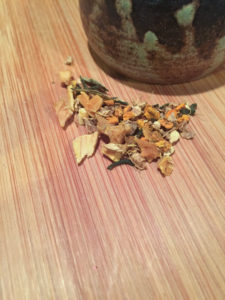 Cost: $22.00 / 100 grams
Price may vary according to the amount purchased.
~~~~~~~~~~~~~~~~~~~~~~~~~~~~~~~~~~~~~~~~~~~~~~~~~~~~~~~~~~~~
TEA SELECTION: TURMERIC CHAI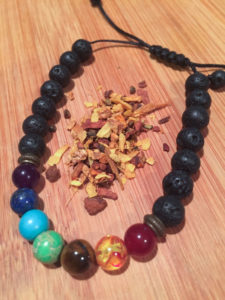 Interesting Highlights:
Thinking hot toddy
Ingredients:
Organic coconut
Organic turmeric
Organic ginger root
Organic cardamom
Organic cinnamon
Organic sarsaparilla root
Organic vanilla bean
Organic black pepper
Natural lychee flavor
Natural rose extract
Review:
Smooth tea with no bitterness or aftertaste, it warms the tongue and mouth. It's a chai with the added warmth and spice of turmeric and ginger, it's unique and different, the liquor is a bit of a cloudy deep yellow brew.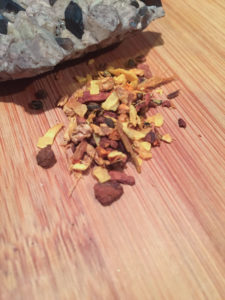 Cost: $20.00 / ¼ pound
Price may vary according to the amount purchased.
~~~~~~~~~~~~~~~~~~~~~~~~~~~~~~~~~~~~~~~~~~~~~~~~~~~~~~~~~~~~
TEA SELECTION: MATCHA GINGER BUZZ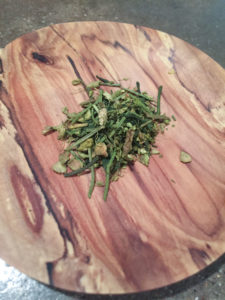 Interesting Highlights:
This is a caffeine free tea!
Ingredients:
Organic ginger root
Organic green tea
Organic quince
Organic rosemary
Organic yuzu peel
Organic black pepper
Essential grapefruit
Ginger
oriander
Kaffir lime oils.
Review:
Spicty teas are all the rage and Rishi has brought us an array or Turmeric and Gnger teas, but in Matcha? WOW this is such an interesting combination of Ginger and Matcha, and you know what, it's really delightful. You'll need to keep your spoon in your cup as the matcha does settle in the bottom of the cup, the taste is alive and awakening. Stronger ginger smell and taste with a slight note of rosemary and pepper.
Cost: $40.00 / 250 grams
Price may vary according to the amount purchased.
~~~~~~~~~~~~~~~~~~~~~~~~~~~~~~~~~~~~~~~~~~~~~~~~~~~~~~~~~~~~~
SPECIAL NOTE:
I'm a fan of Rishi teas, I love their individuality and single origin teas with amazing ingredients added to wow us all.  Great combinations and all natural, even better!
~~~~~~~~~~~~~~~~~~~~~~~~~~~~~~~~~~~~~~~~~~~~~~~~~~~~~~~~~~~~
Company highlights, notes and more:
We believe that organic certified teas and herbs, grown without the use of agrichemicals like pesticides and fertilizers, are generally healthier for the environment, farmers, and tea drinkers alike. Over 95% of the ingredients that we import are certified organic according to the USDA NOP standard. We have even helped several producers convert from conventional to organic.
We do source certain teas and rarefied herbs like Kyoto matcha and Afghani saffron from special growing regions where organic certification is beyond the scope of local smallholder producers. In these cases, we evaluate and verify that the teas are safe to consume. There is no Rishi tea that we would not drink ourselves.
Read more and visit the website: CLICK HERE.
******************************************************************
I hope you all are enjoying and sharing our tea reviews. I love our tea loving community and as tea continues to grow and flourish so will our reviews. I plan on keeping us all informed on what is going on, what is new, what is bad and simply what is.
Please take a moment to sign up for our newsletter and follow us on Facebook, Twitter and Instagram. So much more to share and the newsletter gives us discounts, giveaways and tea company's inspirations. Don't be left out of our community.
Below I have included an instructional brewing chart to help you brew your teas.
Like us? Love us? Want a certain tea reviewed?
SEND US YOUR COMMENTS!
(So serious, write to me and tell me what you are thinking, I honestly want to hear from everyone!)
Don't forget to follow me and make sure you say Hello!
******************************************************************
AVERAGE BREWING INSTRUCTIONS:
These are common instructions for brewing teas, however if the company suggests other brewing I will include it in the review section.
Time and Temperature Guide:
Tea      Temperature Minutes
Black      95°C / 205°F 3 – 5
Oolong/White 85°C / 185°F 3 – 4
Green/Yellow 80°C / 176°F 2 – 3
Herbal/Tisanes.         100°C / 212°F 5 – 15
** As always stated by My Tea Vault, we think you should enjoy tea the way you like it, I like mine very strong with no sweetener, these are just guidelines and I suggest you use the guideline then adjust for your own tastes.