MATCHA WHITE CHOCOLATE BAR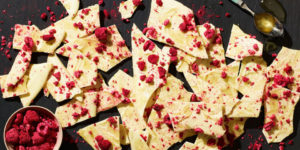 INGREDIENTS
1/2 c. boiling water
2 bags Lipton Matcha Green Tea
1 c. sugar
16 oz. white chocolate, finely chopped
1/2 c. freeze-dried raspberries
DIRECTIONS
1 Line a sheet pan with parchment and set aside. Brew the tea: Pour ½ cup of boiling water over 2 green tea bags, steep for 2 minutes.
2 Combine tea with sugar, and cook over low heat until a candy thermometer reads 235 degrees F. Set aside to cool.
3 Microwave 3/4 of the white chocolate in a heat-proof glass bowl on high for 30 seconds at a time, stirring every time with a spatula. Once melted, add the remaining chocolate and stir until completely incorporated. If necessary, microwave the chocolate again for 10 to 15 seconds.
4 Pour the melted chocolate onto the parchment-lined sheet pan. Quickly drizzle about 2 to 3 tbsp. of the matcha green tea syrup over the chocolate. Using a chopstick or skewer, make decorative swirls with the white chocolate and the matcha syrup. Sprinkle crushed freeze-dried raspberries on top.
5 Refrigerate for 30 to 40 minutes, until chocolate is set and can be broken into chunks.