MIDWEST TEA FEST 2017 part three (final)
Midwest Tea Festival Part 3
For Part ONE
For Part TWO
Wow, I never expected this to go to three posts, but once I got into all the teas and reviews I just did not want to overwhelm everyone. Today will be the last installment of the Mid West Tea Festival. I hope you get a chance to check out all the tea companies just like I did and I know you will find many that will fit into your "tea love" category.
I also wanted to mention a few other companies that were there as well
CR Confections with some amazing artistic cookies
Elite Designs offered us a unique array of T shirts
Gourmet Kichenworks had a nice display of Tea Kettles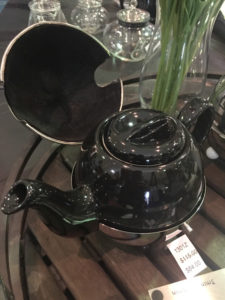 Creation Station with the crocheted Cozies and other tea items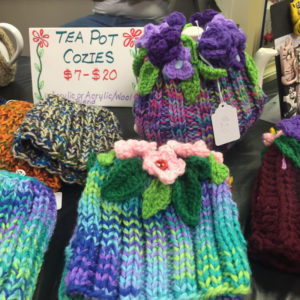 Oh, and let me say this, please check out all the websites besides teas most of these tea companies take the time to share with you different processes of tea growing and producing as well as some have tea accessories, tea video's, tea awareness, discussions on the areas the teas are from and more.
Purple Tea: Introducing the purple tea and it's not what you think; I'm not going to go into great detail here as I'll be reviewing this tea in the future. This is not an herb but an actual tea and it's purple and it's flavor is just delightful. #PurpleTeaExperience
Silver Yeti: a silver needle tea, smooth and floral, a wonderful flavor that lasts.
Kumari Gold: named after their mother, who is going to turn down a sample of that? Not this girl! This is a full bodied tea with a slight bitterness that captures the flavors of a caramel and fruitiness. Really unique and lovely.
M3: Mana Bar offerd this really delightful Matcha that included Spearment and Yerba Mate' it was delightful and also had Kumbucha that I enjoyed and purchased a kit to create my own.
Tregothnan Classic Tea: Bold and beautiful like so many british teas that really love the dark rich flavor.
Mexican Wedding Cake: One of my favorite cookies made into a tea, it's delightful and yes it tastes like the cookie.
Loggerhead Tea: Lovely tea a deeper brew with hints of mint and lemon, it's also one of their charity teas.
Earl Grey: A classic however you have to know this tea company takes great pride in its tea and ingredients. You will be hearing more about them in the near future.
Sunshine Dust: Turmeric yes thank you in this amazing "tea" with helps you in so many ways, you have to check it out and add it to your list of healthy teas. The taste is amazing and not an overpowering antiseptic taste, very smooth, warm and delightful.
I did not sample any of their teas because I've told you all about them a few times but wanted to mention they were there with a large display of their teas and tea products. In fact, I wore their Tea Shirt and got a lot of attention with it too.
Juicey Honey Peach: A lovely peachy tea with a sweetness to it like that of honey. No sweetener has been added.
IN THE BAG
There were three tea samples in the goodie bag and I wanted to share them with you here:
Down on the Farm I tasted vanilla however there is no vanilla in this tea, filled with black tea, blackberry, boysenberry and apple full-bodied tea with a lovely dark amber liquor.   The tea was smooth with a slight bitterness and roasted notes.
Shou Mei: Lovely tea with a wheat scent to it, no bitterness and no aftertaste, just an amazing white tea with a mellow smooth flavor
TRAIL LODGE TEA            North Point Darjeeling: Okay I loved their tea bags! Full bodied and nutty with a slight fruit finish, lovely tea executed well!
WHEW!
Are you exhausted? I can't tell you how full the day was and it was so enjoyable. I encourage you to make plans for next year, follow their blog, follow mine so you won't miss out, the entrance price is amazing and it's well worth the trip.
Comments or Questions please ask.
I wish you great health always
Simply,
Lisa B.