Midwest Tea Festival – My Tea Vault Review
I was excited about attending the Midwest Tea Festival in Kansas City, Missouri.  There was a lot to see and even more to test.  I did not attend any seminar, those fill up fast and I was late with my sign up.
The fun part of going as a blogger that no one knows is that you can talk to people and ask questions and they have no idea who they are talking to.
When you arrive there are people there to greet you and give you a cute little admissions band, the one thing that was nice was a no paper admission, they had your name, number with your party and that was it.  You were in.  It's overwhelming at first, there are a lot of people, it's a hustle and you just start, going table to table.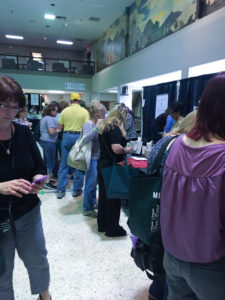 There were two sets of table set up a U and an inverted U, to me the inverted U worked best and allowed more access to items, people and products.  I only had to wait for one tea to taste it so that says a lot about the ability of the people to produce samples.  They were swamped for the entire time I was there, the entire time.
There were two tables I could not get to, one because they were popular the other because the presenter inside was inexperienced at these types of events and held captive a set of young girls for over 5 minutes, I walked away, so did many other people.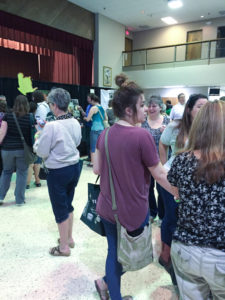 From what I understand this is a bigger venue then last year and honestly I'd have to say they will have to grow again.  Growing is such a good thing because it just means our love of tea is spreading and growing!  That's amazing news!
I saw some old favorites: Harney and Sons and Traveling Tea.  I was impressed by Anne Marie's Teas (sure wanted to win a tea bush) as well as Hugo Tea.  I had no least favorites I was so impressed with everyone.  I asked questions and not one person was too busy to respond, they could easily have been.
I took a business card from each of the places I could minus the two I could not get to, however I did note the business and connected once I got home.
Some fun teas:
Nine year Old White Tea from Shang Tea
Kaporet Kenya from Single Origin Teas
Rooibos Mexican from Trail Lodge Tea
100 Year single origin tea from Hugo Tea
Fun Matcha demonstrations by Tea Gshwendner
and some fun tea desserts from Bimi Bakery
This is a very short list, I tried teas at every table and wish I could share them all, I guess you will have to attend yourself in order to find out.
The attendance bag was a lot of fun as well: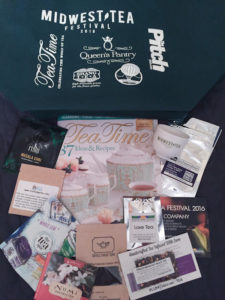 There are an abundance of teas to be reviewed and I look forward to that.
The staff did a great job, the only downfall I felt was the lack of space and inexperienced people who attended and who participated to help keep the flow of people moving.  If you had the time and took the time, used patience and relaxed you could view everything and the vendors were more then happy to make sure you got a taste of their teas.
Oh yes and the tea cup.  GREAT IDEA!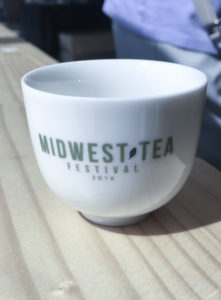 A great way to save on paper or plastic waste (recycling is awesome) and a great memory to take home with you.
If you did not make it to the Midwest Tea Festival 2016, don't worry there will be a 2017, look for it, plan on it and ENJOY growing in your knowledge of our ever growing tea love.