Montmartre Masala – Serendipitea
Tea Selection: Montmartre Masala
Company Name: Serendipitea
Location: Manhasset, New York.
Founded: 1995
Tea Company Comments taken from their webpage: 
We are committed to the highest quality loose leaf tea, selecting fine certified organics when available. Working closely with tea gardens, estates and specialists around the world, maintaining knowledge and expertise regarding all facets of tea and production.
We are environmentally responsible, utilizing organic farms and all-natural products. Committed to Earth-friendly packaging including post-consumer recycled and biodegradable materials and water-based inks.
We are socially responsible, employing people not machines, opting for handcrafted rather than machine-milled.
We are education-based, conducting extensive lectures and tastings for the public.
And we are always available to answer questions and receive comments – we are happy to be of service.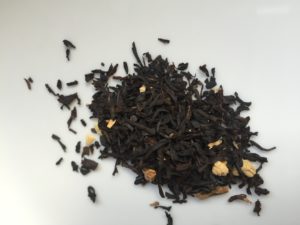 Personally: It's no secret that I love tea and I will solicit places to try their teas, especially if I find that they offer unique and premier tea and tea products. When I find a company like Serendipitea I'm intrigued by their products and of course I want to share. I love their website and please check it out, it's original and interesting. Don't miss the tea "stamps" at the bottom to direct you to different parts of the website as well as their foundation of their name Serendipitea.
Read more about Serendipitea on their website: Serendipitea.
INGREDIENTS:
Organic Black Pepper
Organic Cardamon
Organic Chinese Black Tea
Organic Cinnamon
Organic Clove
Organic Ginger
Organic Vanilla Bean
Artificial Vanilla Flavor
Vietnamese Black
COSTS: $10.00 – 4 ounce box
Price varies according to the amount purchased.
REVIEW
Prior to brew: I love the fact that this tea is "chunky" and by that I mean you can see a lot of the ingredients and it's not all chopped up into a ground up maze of "tea".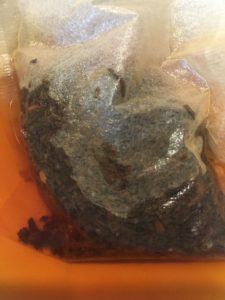 First scent of this tea is a minty scent, followed by a strong scent of cinnamon and clove.   It's a chia based tea so of course you are going to have some familiar chai smells.
Brewed: Once brewed this tea has a beautiful rich Amber hue, such a pretty shade in the cup.
Scent: This is a very strong chia scent.
Flavor: On first sip this tea was a bit sour on the tip of the tongue however, on second sip the tea losses some of that sourness to reveal a stronger tea. Good mixture of a sweet vanilla followed by the cooling effect of the pepper mixed with the chai flavors of this tea.
Sentiments: This tea is strong and it won't allow you to forget it, it's got a strong brothy aftertaste of a soup and a cooling affect of that pepper and the sweetness of vanilla. I like the fact that this tea contains ginger and cinnamon as well, two important spices for your health.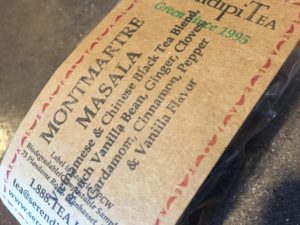 My Tea Vault score values of 1-10 (10 being the best): "8".
Till next Tea….
Pinkies up!