Mountain Song Herbal – Tea Review – Blue Fairy Tisane
Company Name: MOUNTAIN SONG HERBALS
TEA SELECTION: BLUE FAIRY TEA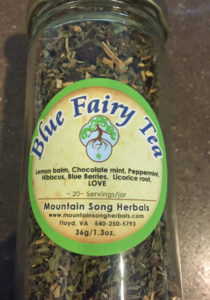 Interesting Highlights:
Look at those really great herbs in this mix. Really a Tisane but for sake of ease we do tend to call them all Teas.
Ingredients:
Lemon balm Melissa officinalis, Hibiscus Hibiscus rosa-sinensis, , Blueberries Vaccinium, Chocolate mint Mentha x piperita, Peppermint Mentha piperita, Nettle Urtica dioica, Alfalfa Medicago sativa, Licorice root Glycyrrhiza glabra, Love
The Scent or Aroma:
There is a nice mint aroma followed by a slight citrus
Review:
When you open the jar you will find inside the jar of tea a linen bag for brewing, a nice fine and as you dig to get your tea you will find a piece of paper that has a lovely quote by Willian Ewart Gladstone:
" If you are cold, tea will warm you; if you are to heated, it will cool you; if you are depressed, it will cheer you; if you are excited it will calm you."
I brewed the first brew in the linen bag and I was not sure if there was some sort of sizing on the bag (I did wash it first) or what but the tea did not taste crisp and clear to me,. I brewed a second bath with my filter and felt I got a better representation of the tea.
There is not a big mint flavor and more of a lemon / citrus flavor. It's a mellow tea with a Medium brown liquor. Lots of good things for you in this tea, very medicinal for your stomach and soul.
Cost: $19.99
Price may vary according to the amount purchased.
********************************
Company highlights, notes and more:
Mountain Song Herbals started in 2010, when Sam realized that perhaps many more people other than her family, friends and neighbors could benefit from the herbal formulas she'd been making for the last 9 years. The answer from her community and now other communities has been an overwhelming yes.
Inspired by her first mentor, a wonderful Appalachian herbalist, midwife and mother along with the encouragement of her family, Sam began the journey of transitioning from midwifery into making herbal formulas and growing medicinal herbs for other community members. With the help of her husband on a crisp fall day they moved the washer and dryer out of the house and the Apothecary moved in to the 150 sq ft room, and the journey began. We have been growing strong ever since. Even after a devastating house fire in January 2013, many nights praying, sitting in waiting silence for the still small voice within to guide, they decided to rebuild and keep Mountain Song Herbals going and growing.
We are happy to share that we are continuing to re-build. Thanks to the immense support we have received from our community, we are up and running again. We are in the process of building a 900 sq ft. apothecary , with a lot more room to see clients, conduct classes, workshops and produce our herbal products.
Read more and visit the website: CLICK HERE.
******************************************************************
I hope you all are enjoying and sharing our tea reviews. I love our tea loving community and as tea continues to grow and flourish so will our reviews. I plan on keeping us all informed on what is going on, what is new, what is bad and simply what is.
Please take a moment to sign up for our newsletter and follow us on Facebook, Twitter and Instagram. So much more to share and the newsletter gives us discounts, giveaways and tea company's inspirations. Don't be left out of our community.
Below I have included an instructional brewing chart to help you brew your teas.
Like us? Love us? Want a certain tea reviewed?
SEND US YOUR COMMENTS!
(So serious, write to me and tell me what you are thinking, I honestly want to hear from everyone!)
Don't forget to follow me and make sure you say Hello!
******************************************************************
AVERAGE BREWING INSTRUCTIONS:
These are common instructions for brewing teas, however if the company suggests other brewing I will include it in the review section.
Time and Temperature Guide:
Tea      Temperature Minutes
Black      95°C / 205°F 3 – 5
Oolong/White 85°C / 185°F 3 – 4
Green/Yellow 80°C / 176°F 2 – 3
Herbal/Tisanes.         100°C / 212°F 5 – 15
** As always stated by My Tea Vault, we think you should enjoy tea the way you like it, I like mine very strong with no sweetener, these are just guidelines and I suggest you use the guideline then adjust for your own tastes.