My Visit to the Charleston Tea Plantation
I had to do a little research on this because once I posted I visited the "only" tea plantation in North America I received feedback that indeed that was incorrect, there was one in: Texas, Idaho and several other places around our great country.
I contacted the GM of Charleston Tea Plantation but the call was not returned, so I have no real understanding, I can only assume (we know what that means right) that it's the world "plantation".  I hope to make contact with someone from the Charleston Tea Plantation to clarify this as well and when/if I do I will let you know.
My experience with tea plantations is one where the teas are handpicked and processed so this was a real treat for me to be able to visit one while visiting my friend Mark in South Carolina.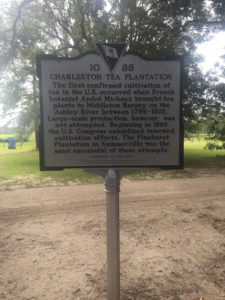 My first concern was Glysophate and if it was sprayed onto the tea plants, within minutes of the tour it was announced that there are no chemicals used in the growing or processing of the teas. In fact, the only thing used is nitrogen to help the roots to grow. Because there is nitrogen used this is the only reason the plantations teas cannot be called organic.
The trolley tour is so worth the $12 fee and you get a first hand look at the plantation and are free to ask as many questions as you'd like. I hope you get Bob as your tour guy, he was fantastic. Hearing the whole process and seeing young tea plants following the chain from seed to picking was enjoyable.
One thing that did not happen was getting remotely close to a tea plant, it was not going to happen and I get it, people picking the leaves, taking the seed pods.. I get it but that opportunity would have been way cool.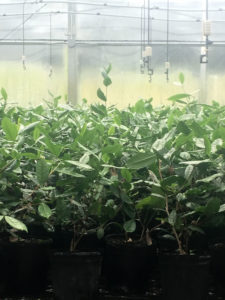 The tour takes about 35 minutes and like I said above, well worth it.
Inside the gift shop (and you have to check out the gift shop) is another tour that is complimentary. This tour is of the processing plant and equally as interesting. It goes from where the trolly tour leaves off as the tea leaves are brought to the plant and processed. It's not a huge plant, but they get the job done.
I have to mention the "green giant" a one of a kind made right there on the plantation tea picking machine, it's pretty interesting and i did not see it run but it looks pretty interesting and it gets the job done.
The gift shop is large and packed full of of tea items, there are also two stations of tea, one hot and one cold where you can sample the Charleston Teas.
I tried a few and made my decision to purchase the Earl Grey and Green Mint. The teas are both processed in the plant as well as flavored with natural flavors. As always I read the labels and made sure my choices contained all ingredients and nothing listed "natural flavors".
The people that work the store are so friendly and while I did not get a chance to meet Dave Bigelow I got to experience the tea plantation hospitality through Bob and the people working inside the store.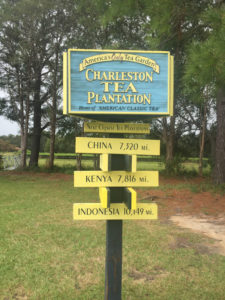 My reviews of the teas will follow in a separate blog.
My suggestion is, if you get close to Charleston South Carolina make a stop at the Charleston Tea Plantation, tell them Lisa from My Tea Vault sent you.
Let me know when you do and what you think, I'd love to hear your feedback as well.
Wishing you great health always
Lisa B.
My Tea Vault