Oh Baby ! Hot Cinnamon Spice -Harney and Sons Tea
Company Name: HARNEY AND SONS
Company highlights, notes and more:
Metropolitan Tea grew from a single vision: to provide an unparalleled tea experience. World-renowned Tea Master Gerry Vandergrift, founded our company in the basement of his Toronto home after learning the trade from one of Canada's then premier tea companies. The rest, as they say, is history.
Read more and visit the website: CLICK HERE.
~~~~~~~~~~~~~~~~~~~~~~~~~~~~~~~~~~~~~~~~~~~~~~~~~~~~~~~~~~~~~
Companies Use of Pesticides and Toxins:
When asked about the use of "natural flavors" and use of pesticides this is the response I received from Harney and Sons: 

"We use two natural cinnamons in the hot cinnamon spice. All of our teas meet the strict EU regulations for little to no pesticides, and certainly no toxins!"
~~~~~~~~~~~~~~~~~~~~~~~~~~~~~~~~~~~~~~~~~~~~~~~~~~~~~~~~~~~~~
TEA SELECTIONS:
HOT CINNAMON SPICE (also known as Hot Cinnamon Sunset)
Cost: $6.50/ 20 tea bags
Price may vary according to the amount purchased.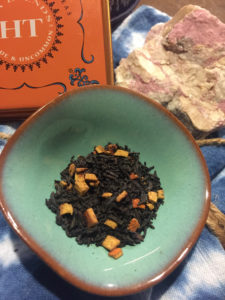 Interesting Highlights:
This tea will give you a very real sense of drinking an ice'd wine. It's really got an amazing flavor and even a following that embraces that of a beautiful iced wine.
Ingredients:
Black Tea
Orange Peel
Three types of Cinnamon
Cloves
(contains natural and artificial flavors)
Review:
A friend from our facebook group (Morning Cup of Tea) and a personal friend as well shared her love of this tea. I added it to my Amazon list and was surprised that my grandson purchased it for me for the holidays. I dove right in.
I love the taste of this wine, some may want to add a sweetener however I think without it really gives a more wine taste.
What I don't like…

PICTURE
dust and natural flavors!
The dust because we all know that it's basically tea ground and ground and ground to dust and I honestly never understand why, why? Because whole tea leaf makes an incredible tea.

Natural flavors again as I have stated, natural flavors are not regulated and can be absolutely anything. I contacted metropolitan tea for an explanation of the natural flavors and here is there response:
Afertaste: none
Biterness: none
Notes:
cinnamon and SWEET!!!
******************************************************************
I hope you all are enjoying and sharing our tea reviews. I love our tea loving community and as tea continues to grow and flourish so will our reviews. I plan on keeping us all informed on what is going on, what is new, what is bad and simply what is.
Please take a moment to sign up for our newsletter and follow us on Facebook, Twitter and Instagram. So much more to share and the newsletter gives us discounts, giveaways and tea company's inspirations. Don't be left out of our community.
Below I have included an instructional brewing chart to help you brew your teas.
Like us? Love us? Want a certain tea reviewed?
SEND US YOUR COMMENTS!
(So serious, write to me and tell me what you are thinking, I honestly want to hear from everyone!)
Don't forget to follow me and make sure you say Hello!
******************************************************************
AVERAGE BREWING INSTRUCTIONS:
These are common instructions for brewing teas, however if the company suggests other brewing I will include it in the review section.
Time and Temperature Guide:
Tea Temperature Minutes
Black 95°C / 205°F 3 – 5
Oolong/White 85°C / 185°F 3 – 4
Green/Yellow 80°C / 176°F 2 – 3
Herbal/Tisanes. 100°C / 212°F 5 – 15
** As always stated by My Tea Vault, we think you should enjoy tea the way you like it, I like mine very strong with no sweetener, these are just guidelines and I suggest you use the guideline then adjust for your own tastes.